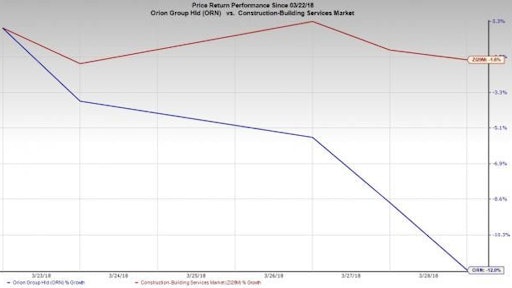 The Trump Administration's recent imposing of 25% tariff on imported steel and 10% on imported aluminum has spurred concerns among investors about certain U.S. sectors, particularly construction – which relies heavily on steel and aluminum for raw material. Data provider Statista measures the construction industry supplying two-fifths of U.S. steel demand in 2017.
Zacks Equity Research identified four stocks from the construction sector whose values have fallen in the past week significantly more than the construction sector's decline of 1.7%:
Orion Group Holdings Inc. (ORN) is a construction company, which provides heavy civil marine construction and commercial concrete services. Orion's shares have dropped 12% in the past week.
Sterling Construction Company Inc. (STRL) operates in heavy civil and residential segments. Sterling's shares have lost 7.6% in the past week.
Norbord Inc. (OSB) is a producer of wood-based panels for industrial manufacturers, retail chains as well as contractor supply yards. Norbord's shares have lost 2.5% in the past week.
Armstrong Flooring Inc. (AFI) is engaged in design and manufacture of flooring solutions. Zacks advises investors to steer clear of the stock for now. The company's shares have lost 4.7% in the past week.
As the Chinese announced $50 billion worth of retaliatory tariffs on American products including soybeans, pork and aircraft, the broadest potential impact of the trade war will be in rural areas, where many private construction companies are based. 
(more on steel tariff's downgrading of construction stocks . . . )