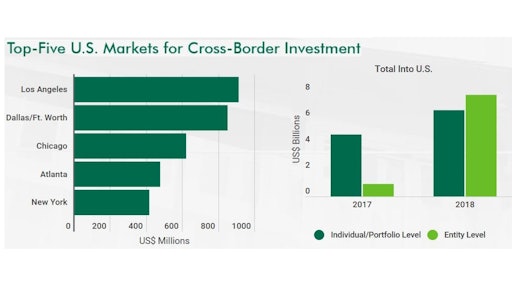 Foreign investors were behind 21% of the total industrial real estate investment volume in the U.S. in 2018, according to a recent CBRE report. The activity translated into an aggregate $14.4 billion in acquisitions. Investments originating from Canada, China and Singapore accounted for roughly $10 billion of the investments.
The billions of dollars foreign investors spent on purchasing industrial assets in 2018 marked a 152% jump over the 2017 total.
"Deal volume has increased by 68% for the past five years, even when excluding the large entity-level transactions," Matthew Walaszek, senior research analyst with CBRE and report co-author, told Commercial Property Executive.
(more on foreign investment in US industrial real estate . . . )