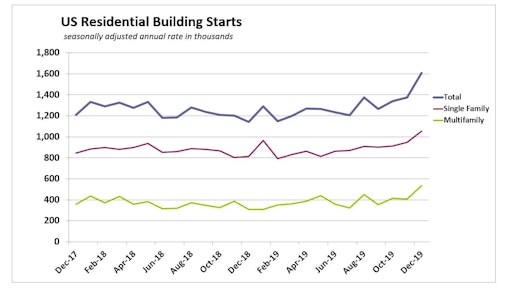 ForConstructionPros graphs of US Census Bureau data
December U.S. housing starts surged 16.9%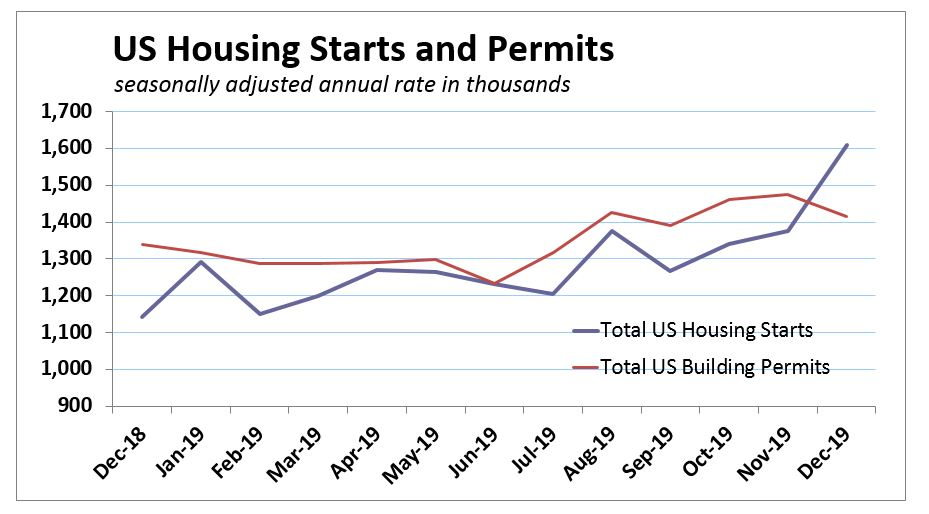 to a 1.61 million-unit annual pace, the highest level since December 2006.
Big jumps are not unusual for December. The seasonal adjustment factors for the month are huge and unseasonably mild weather, as we had last month, can often lead to exaggerated jumps in the seasonally adjusted data. There is also a tendency for multifamily starts to surge at year-end, as developers race to get projects started ahead of new mandates that tend to begin at the start of each year.
Single-family starts jumped 11.2% to a 1.06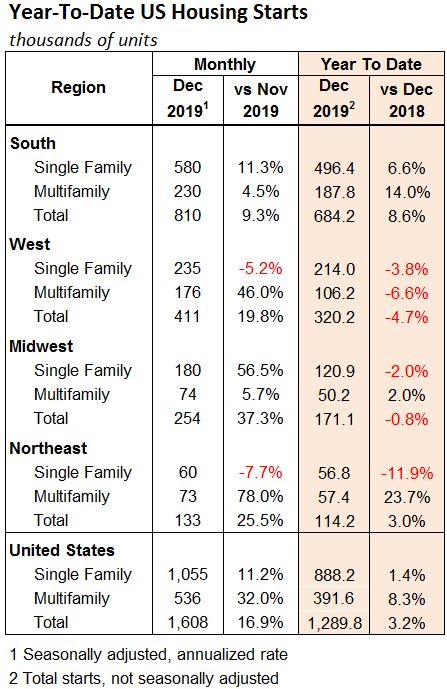 million-unit pace, the highest since July 2007. Multifamily starts surged an even stronger 32.0% to a 536,000-unit pace, a 33-year high.
If December's strong numbers stand up, single-family starts will exceed Wells Fargo's 2019 forecast and multifamily starts, most of which are high-end lifestyle apartments, will significantly exceed expectations. But it is not uncommon for big gains in housing starts to be scaled back when more complete data are reported.
Even if we see December's gains trimmed, the trend of the preceding three months suggests that homebuilding will have ended 2019 with strong momentum.
Starts rose in all four Census regions in December. The Midwest posted the largest percentage gains, with overall starts soaring 37.3% and single-family starts surging a whopping 56.5%. While the gains come off a relatively small base, starts on a non-seasonally adjusted basis actually rose in December, a month when frigid winter weather usually causes activity in the region to plummet.
The Northeast also saw huge percentage increases for the same reasons, with overall starts rising 25.5% in December. The big story, however, is in the South, which is less impacted by winter weather and saw starts rise 9.3% off their already strong pace. The South has seen its share of total U.S. housing starts skyrocket in recent months to over 53%.
Permits were the soft spot of the report, with permits issued for single-family residential construction down 0.5% and multifamily down 9.6%. The pace of starts and permits – for both single family and apartments – was strong for the entire second half of 2019, which means that even if activity stabilizes from here, we will likely see sizable year-over-year gains in 2020.
Wells Fargo does expect to see continued gains. The NAHB index, a measure of homebuilder optimism, fell just one point in January to 75 and remains within a hair of the 20-year high hit in December.
While the gap between multifamily permits and starts narrowed in December, it remains unusually large with the trend in permits well above the trend in starts.