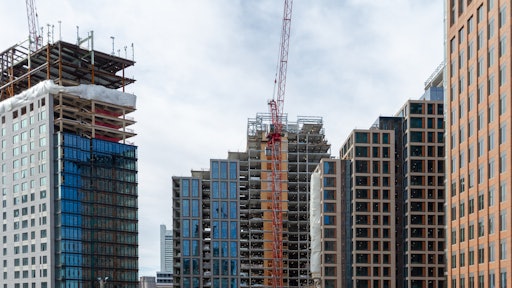 Ryan McGurl / iStock / Getty Images Plus
The Painters and Allied Trades Union has directed its 4,000 members in Massachusetts and across New England to stop working following the close of business on Monday. In a move mirroring that of local carpenters, the Painters and Allied Trades ordered members not to return to work "until it is safe to resume," according to a BostonHerald.com report. 
"Business representatives and organizers have visited job sites and reported to me that there is an unsafe risk of exposure to COVID-19. Many of our partner contractors have made strong and sincere efforts to protect our members on the job. Despite these efforts, I am now convinced that construction sites in Massachusetts are not presently safe for our membership," Jeffrey Sullivan, the union's secretary-treasurer said in a letter to members.
The Massachusetts governor shut down a wide range of businesses that involve in-person contact, but has made an exception for new housing and infrastructure work. Gov. Charlie Baker said his administration last week issued "robust" guidance including requiring social-distancing protocols and a "zero-tolerance policy" for infected workers on the job. Sites not in compliance are instructed to "secure the site and pause construction," but union leaders said enforcement is not happening and workers are being put at risk.
Last week, the North Atlantic States Regional Council of Carpenters directed its 13,000 members in Massachusetts to stop working effective Monday "until it is safe to do so."
(more on Massachusetts union walk-outs from BostonHerald.com . . . )