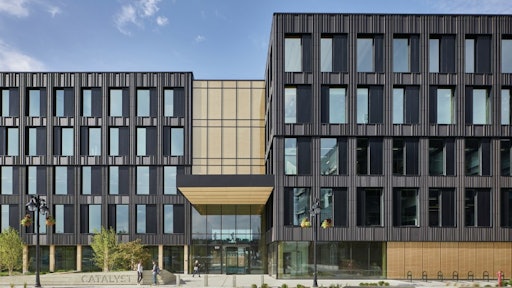 Benjamin Benschneider
News media outlets are reporting that construction tech startup Katerra is closing down. 
The Seattle Times reported June 1 that 117 people will be laid off in the closure. The company had received roughly $200 billion in funding from investors in recent years, including $865 million in 2018 and $200 million at the end of 2020. Much of that funding came from SoftBank, a Japanese multinational conglomerate that invests in technology, energy and financial companies. SoftBank operates Vision Fund, the world's largest technology-focused venture capital fund, with more than $100 billion in capital. 
Katerra sold building platforms, structural systems like truss assemblies, modular and prefab construction, as well as cross-laminated timber, commercial glass and more. It aimed to use technology and modern building materials to "help address some of the industry's most entrenched challenges." 
The startup was recognized in March by the American Institute of Architects (AIA) as one of the winners of the AIA 2020 Innovation Awards for its design work on the Catalyst Building in Spokane, Wash. The project won in the Holistic Design category.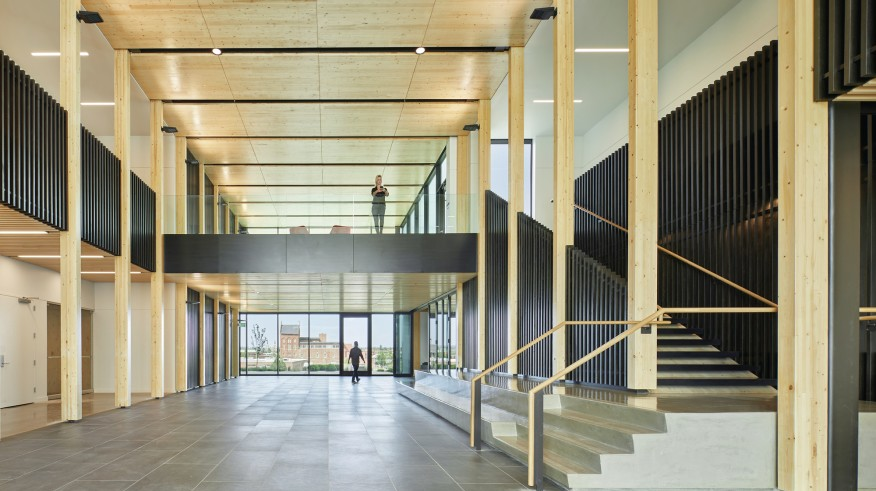 Interior of the Catalyst building in Spokane, Wash.Benjamin Benschneider

The building is the state's first office building constructed from cross-laminated timber, where wooden planks are sandwiched into layers for structural integrity as a sustainable alternative to concrete and steel. Known as mass timber the framing style uses large wood panels for wall, floor and roof construction. The method replaces the use of steel to a degree in construction. Some sources say mass timber can reduce carbon emissions in construction by 15%-20%. 
According to the AIA, "Born of close collaboration and a set of shared values, Spokane's Catalyst Building is a testament to the fact that wood buildings can meet and exceed the performance of their steel and concrete counterpoints. Composed of more than 4,000 cubic meters of cross-laminated timber and glulam products, it is expected to be one of the largest buildings in North America to achieve Zero Energy and Zero Carbon certifications from the International Living Future Institute."
News outlet The Information was one of the first to report on the company shutdown, and shared this excerpt from a company email, "Following a thorough review of strategic business alternatives, Katerra has determined that it must wind down the majority of its U.S. business operations, effective immediately," Katerra told employees in an email Tuesday afternoon. "Unfortunately, most of our U.S. employees will no longer be working for Katerra in the near future."
Read the rest of The Information's story here.