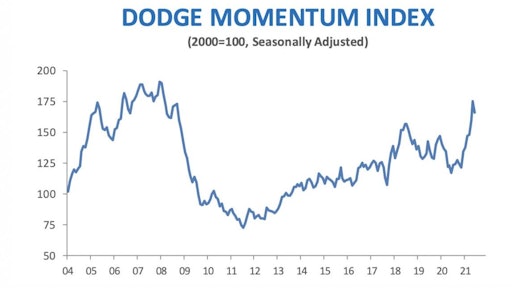 Dodge Data & Analytics
Softening in both key market components led to a nearly 10-point dip in the Dodge Momentum Index in June. The month's reading fell to 165.8 (2000=100), a 5% decline from May's revised 175.1, halting what had been seven consecutive months of gains.
Dodge Data & Analytics issues the Momentum Index as a monthly measure of the first (or initial) report for nonresidential building projects in planning, which have been shown to lead construction spending for nonresidential buildings by a full year.
After a steady three-month climb earlier this year, including a 77% rebound in April and a largely stable reading in May, institutional planning slid 7% in June. Commercial planning, which had been in a four-month holding pattern before jumping to a 13-year high in May, fell 4% for the month. Dodge Data & Analytics cited uncertain demand for some  building types (e.g., retail and hotels), higher material prices and continued labor shortages as weighing down new project planning. 
A total of 13 projects with a value of $100 million or more entered planning during June. The leading commercial projects were:
a $194 million data center in Dulles, VA
the $109 million FedEx warehouse in Cedar Rapids, IA
The leading institutional projects were:
the $300 million Mt. Edgecumbe Medical Center replacement in Sitka, AK
the $200 million renovation of the New York Public Library SNFL Branch in New York, NY
Even with June's decline, the Momentum Index remains near a 13-year high and its current reading is 41% above last year. The commercial component was up 39% over June 2020, while the institutional component came in at 46% higher.
June's retreat in planning activity is another sign that the recovery from the pandemic-led recession will be nonlinear, Dodge Data & Analytics reports. But its current level and its underlying components continue to point to a more broad-based recovery in nonresidential construction starts in 2022.
Information provided by Dodge Data & Analytics and edited and enhanced by Becky Schultz.