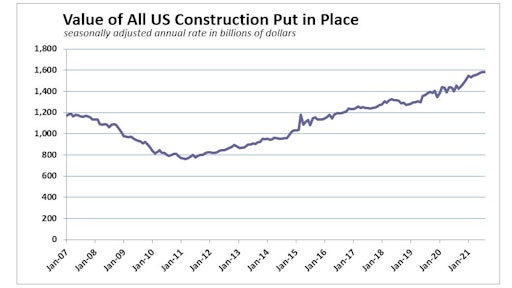 data: US Department of Commerce; graph: ForConstructionPros.com
The diverging stories of U.S. spending on residential and nonresidential construction continued in August, with a sixth month of increasing value of housing put in place and another slide on the nonresidential side. Total construction spending, according to the month's data released by the U.S. Census Bureau, was flat during the month, as a 1.0% decline in nonresidential spending offset a 0.4% gain in residential outlays. Economists polled by Reuters had forecast construction spending to gain 0.3%.
"The monthly gain in residential [construction spending] was owed almost entirely to a 2.5% rise in home-improvement spending," said Charlie Dougherty, economist with Wells Fargo Securities. Private single-family housing spending was down 0.7%, and multifamily slipped 0.8%. "More time being spent at home, low interest rates, rising home equity and the dearth of homes available for sale has led to a surge in repair and remodel activity."
Year-to-date, residential construction spending is 25.8% greater than the first eight months of 2020.
Nonres much worse than 2020
August's 0.4% slide in total nonresidential construction spending carries that segment 6.7% lower, year-to-date, than 2020.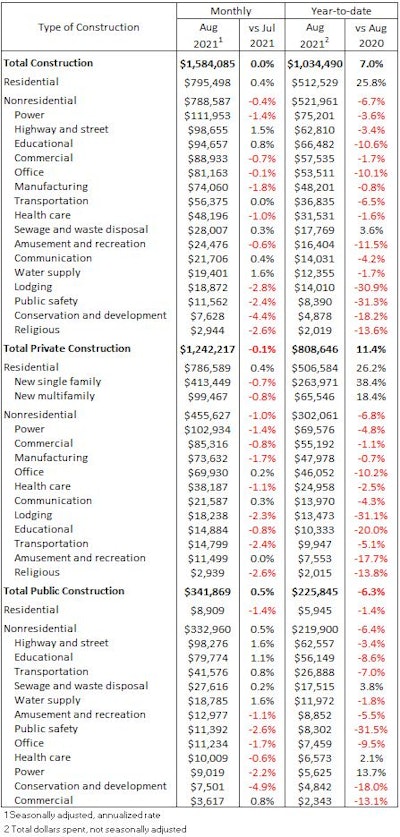 August spending declined in 10 of the 16 nonresidential subcategories, with outlays on transportation unchanged for the month. Private nonresidential spending was down 1.0%, while public nonresidential construction spending rose 0.5% in August.
"The nonresidential construction spending data are among the most interesting to monitor as the economy continues to wrestle with COVID-19, supply chain disruptions and rampant uncertainty regarding the direction of federal policymaking," said Associated Builders and Contractors Chief Economist Anirban Basu. "First, nonresidential construction spending dynamics are shaped by all of the major forces shaping economic outcomes today, including labor shortages, surging input prices, massive liquidity and wavering confidence.
"Second, despite the many challenges they have faced, contractors continued to express confidence regarding near-term prospects until recently, per ABC's Construction Confidence Index," said Basu. "For economists, who have been focused on phenomena such as the growing volatility of asset prices, rising freight costs, ongoing lockdowns in parts of the global economy and still-high infection rates in America, that expression of abundant confidence has been somewhat surprising. Today's data release reminds us that challenges abound, with the trajectory of the nonresidential segment remaining on a downward trend that has now been in place for many months.
"Third, a growing number of contractors indicate that the combination of increasingly expensive labor and rising materials prices are inducing more project owners to postpone work," said Basu. "This has manifested itself in a number of ways, including the inability of nonresidential construction spending to achieve growth and a recent decline in backlog, as measured by ABC's Construction Backlog Indicator. As if this were not enough, a bipartisan infrastructure package that appeared set to pass is now jeopardized by jumbled political dynamics."
Hints at a turn-around
"The [American Institute of Architects'] Architectural Billings Index, which leads nonresidential construction spending by about a year, rose to 55.6 during August," said Wells Fargo's Dougherty. "The index has now been in expansion territory (over 50) for seven straight months, which suggests nonresidential activity should strengthen over the next few years."
The public sector makes up about 45% of nonresidential spending, though, and officials from the Associated General Contractors said on the day that a House vote on the infrastructure bill was postponed again that the nearly universal decline in infrastructure spending demonstrates the urgency of expanding infrastructure funding. They called on the House of Representatives to quickly pass the Bipartisan Infrastructure bill that already passed in the Senate by a wide margin.
"This legislation includes the kind of policy priorities that members of both parties have long claimed to support," said Stephen E. Sandherr, the association's chief executive officer. "There is no excuse for holding these projects hostage while sorting out other priorities. Construction workers, businesses, and the public are all losing from delay in passing this legislation."