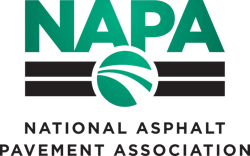 The National Asphalt Pavement Association (NAPA) announced today the winner and finalists in its 2011 Outstanding Brochure Award competition. The companies were recognized at a special ceremony during the association's 57th Annual Meeting in Palm Desert, Calif.
The award recognizes outstanding company brochures published to promote the asphalt industry.
Barrett Paving Materials Inc. of Dayton, Ohio, won the award for a tri-fold brochure "Preserving Your Investment" that highlights the importance of pavement preservation. Finalists were The Lane Construction Corp. of Bangor, Maine, for its is tri-fold "Recycled Asphalt Shingles in Hot Mix Asphalt" and Hutchens Construction Co. of Cassville, Mo., for "Going Green Makes Cents," a double-sided sell sheet that also focuses on recycled asphalt shingles in asphalt pavement.
Companies in this article