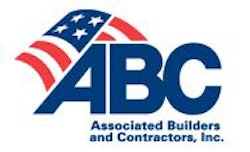 Associated Builders and Contractors (ABC) has named American Infrastructure, Worcester, Pa., its 2011 Contractor of the Year. American Infrastructure Chairman and CEO, A. Ross Myers, accepted the award on behalf of the company during ABC's 22nd annual Excellence in Construction and National Safety Excellence Award program held February 22 at the Biltmore Hotel in Phoenix, Ariz.
"Each year, ABC recognizes an individual or company that attains a level of achievement that raises the bar for all of us, and American Infrastructure certainly fits the bill," said 2012 ABC National Chairman Eric Regelin, president of Granix, LLC, Ellicott City, Md. "Their commitment to excellence and safety on all levels helps to advance our organization, the construction industry and the principles of free enterprise."
American Infrastructure was founded in 1939 by Allan A. Myers and his son Allan C. Myers as a local hauling firm in the Philadelphia suburbs. The company continues to operate as Allan A. Myers in Pennsylvania and Delaware and as American Infrastructure in Maryland and Virginia - with 1,800 employees and nearly $500 million dollars in annual revenue.
American Infrastructure is a vertically integrated, heavy civil construction firm and material supplier with a network of regional construction offices, quarries and asphalt plants in the Mid-Atlantic States.
American Infrastructure has been involved with ABC since 1972. The company is a member of six ABC chapters, including the ABC Baltimore Metro chapter, ABC Chesapeake Shores chapter, ABC Delaware chapter, ABC Eastern Pennsylvania chapter, ABC Metro Washington chapter and the Virginia chapter.