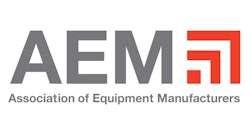 The Rally for Roads attracted hundreds of highway industry supporters to Washington, D.C.'s National Mall to urge Congress to pass surface transportation legislation. Congressional speakers included House Transportation and Infrastructure Committee Chair John Mica (R-FL) and Senate Environment and Public Works Committee Chair Barbara Boxer (D-CA).
Other elected officials participating included House Transportation and Infrastructure Committee Ranking Member Nick Rahall (D-WV) and House Highways and Transit Subcommittee Ranking Member Peter DeFazio (D-OR) and Representatives Tom Petri (R-WI) and Jason Altmire (D-PA).
The overriding message: surface transportation reauthorization can help spur the nation's continued economic recovery, and congressional speakers emphasized the importance of engaging Members of Congress on the economic significance of timely passage of a highway bill.
Members can make their voices heard through the AEM-led I Make America grassroots campaign – more information is at www.IMakeAmerica.comand on the AEM website.
See photos of the Rally for Roads 
TheHill.com quotes congressional speakers on transport-bill plans