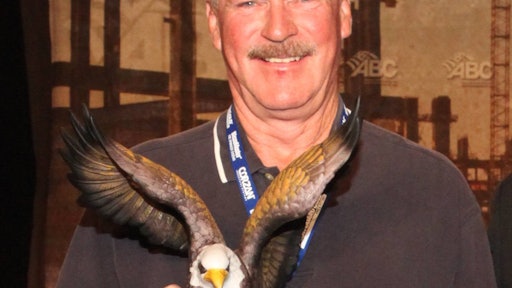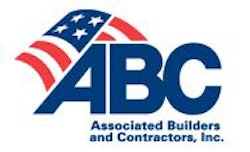 Associated Builders and Contractors (ABC) today announced Joseph Poynter, a foreman for Prus Construction Company, Cincinnati, as its 2012 Craft Professional of the Year. The award was presented April 27 during ABC's 2012 EdCon & Expo in San Antonio.
Poynter has been in the construction industry and working for Prus Construction Company for 34 years. Prior to his current position, he worked as a cement mason, carpenter, operator and laborer. His focus on innovation means that he often leads company efforts to apply new techniques safely and time effectively. In addition, Poynter is dedicated to safety and has never had an Occupational Safety and Health Administration recordable injury on any of the jobsites he has overseen.
"Joseph has an unrivaled passion for his job and for passing along what he has learned in his 34 years working in the construction industry to the next generation by mentoring new trainees and workers," said 2012 ABC National Chairman Eric G. Regelin, president of Granix, LLC, Ellicott City, Md. "His humble attitude and dedication to innovation, quality and safety make him a great foreman, a great mentor and a great representative of the merit shop. I am happy to recognize Joseph as the 2012 Craft Professional of the Year."
Tradesmen International, official sponsor of the 2012 Craft Professional of the Year competition, awarded Poynter a new full-size pickup truck.
All nominees were evaluated on several criteria, with the top candidates being chosen as finalists. The ABC Craft Professional of the Year winner was selected from those finalists. The other finalists were:
Keith Gardner
Bay Mechanical & Electrical Corporation, Lorain, Ohio
ABC Northern Ohio Chapter, Broadview Heights, Ohio

Daniel J. Grote, Jr.
Messer Construction Co., Cincinnati, Ohio
ABC Ohio Valley Chapter, Springboro, Ohio

Jeffrey Mertensmeyer
Thermaltech, Inc., Union, Mo.
ABC Heart of America Chapter, Kansas City, Mo.

Edgar Tarin
Pinkard Construction Company, Lakewood, Colo.
ABC Rocky Mountain Chapter, Englewood, Colo.
Each year, ABC presents the Craft Professional of the Year award to a construction craft professional who excels in his or her field, maintains a lifelong commitment to training and upholds the merit shop philosophy.
The criteria upon which candidates were judged included: the candidate's mastery of job-related skills, jobsite and safety performance record, leadership, professionalism, community and industry service, personal motivation, credentials, commitment to the merit construction philosophy and recognition by others for the candidate's excellence in craft skills and teamwork to complete projects successfully.
Companies in this article