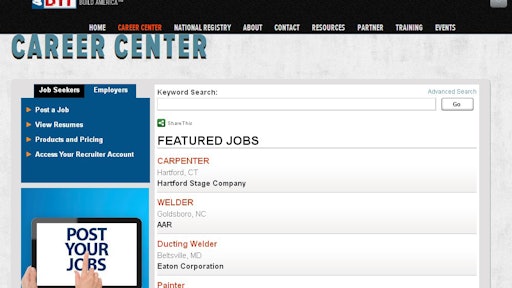 As part of its continuing effort to narrow the skills gap in the construction industry, the Build Your Future (BYF) campaign is proud to announce the launch of a new Career Center aimed at connecting aspiring young people and credentialed craft professionals with rewarding career opportunities. The BYF Career Center is a comprehensive resource providing a wide range of valuable tools for both employers and job seekers.
For employers looking to hire craft professionals, the BYF Career Center can get job postings in front of a workforce with the skills needed on industrial and commercial construction projects. Companies with open positions can post them in the job bank or search available resumes for ideal candidates using pre-screen filters or by sorting candidates by craft area. The search function for employers also highlights candidates with NCCER credentials and military experience to help identify job seekers with highly desirable skill sets.
For Career and Technical Education (CTE) students looking for their first jobs in the industry or skilled craft professionals looking to advance their careers, job seekers are able to quickly apply for construction industry jobs, set up job alerts to be notified when jobs are posted matching their skills or interests, create job seeker profiles, upload their resumes to increase visibility to employers and access job searching tools and tips.
The Build Your Future (BYF) campaign is a collaborative grassroots approach to construction workforce forecasting and development that includes recruitment, training, placement, retention and image enhancement strategies. The ultimate goal of the campaign is to lead new potential industry recruits as well as incumbent workers to opportunities for job placement, advanced education and training and ultimately, long-term rewarding careers in construction. BYF is led by NCCER as part of the Choose Construction Initiative, and is supported by ABC, AGC, CURT and CLMA.