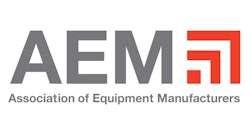 Exports of U.S.-made construction equipment grew 24 percent and totaled $13.7 billion for the first half of 2012 compared to January-June 2011, according to the Association of Equipment Manufacturers (AEM). 
"Construction machinery manufacturers still look to international markets for business growth, even with increased uncertainty in some regions. With domestic construction still subpar, continued export growth has been critical for U.S. equipment manufacturers to keep their factories operating and American workers employed," said Al Cervero, AEM vice president and construction sector leader.
Exports to world regions
South America took delivery of $2.2 billion worth of American-made construction equipment during the first half of 2012 compared to midyear 2011 for a 6-percent gain, and Central America increased its purchases 16 percent to total $1.1 billion.
Construction equipment export volume to Asia grew 4 percent and totaled $1.6 billion. Exports to Europe increased 26 percent for $1.7 billion in construction equipment purchases.
Exports to Africa grew 28 percent and totaled $813 million.


Exports to Australia/Oceania increased 89 percent, representing $2.0 billion worth of construction machinery.


Canada took delivery of $4.3 billion worth of U.S.-made construction equipment, an increase of 26 percent.
Top 10 buyers
The top 10 buyers of U.S.-made construction equipment at midyear 2012 were:
Canada - $4.3 billion, up 26 percent
Australia - $1.9 billion, up 91 percent
Mexico - $870 million, up 17 percent
Chile - $762 million, up 25 percent
South Africa - $496 million, up 52 percent
Brazil - $440 million, down 8 percent
Russia - $405 million, up 27 percent
Belgium - $402 million, up 55 percent
China - $390 million, down 19 percent
Peru - $363 million, up 25 percent
Companies in this article