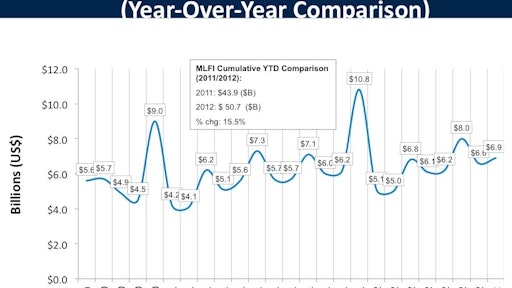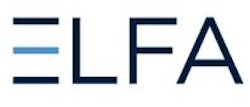 The Equipment Leasing and Finance Association's (ELFA) Monthly Leasing and Finance Index (MLFI-25), which reports economic activity for the $628 billion equipment finance sector, showed overall new business volume for August was $6.9 billion, up 21 percent from volume of $5.7 billion in the same period in 2011. Volume was up 5 percent from the previous month. Year-to-date cumulative new business volume increased 16 percent.
Receivables over 30 days decreased for the third consecutive month to 1.9%, down from 2.2% in July and down 24% when compared to the same period in 2011.
Charge-offs were unchanged from the previous month at 0.4% and down by 33% compared to the same period last year.
Credit approvals decreased slightly to 77% in August from 77.5% in July.
62% of participating organizations reported submitting more transactions for approval during August, down from 65.5% the previous month.
Total headcount for equipment finance companies was unchanged from the previous month and declined 3% year over year.
"The pace of new equipment financing continued throughout the summer months as the housing sector, for one, showed signs of a rebound," said ELFA President and CEO William G. Sutton, CAE. " However, businesses - both large and small - continue to build up cash reserves, indicating lingering apprehension over increasing energy prices, instability in the Arab world and a still fragile Eurozone economy."
Separately, the Equipment Leasing & Finance Foundation's Monthly Confidence Index (MCI-EFI) for September is 53.0, up from the August index of 50.2, reflecting increased optimism despite concerns over companies' willingness to expand their businesses in the face of economic and political uncertainty. 
The MLFI-25 is the only index that reflects capex, or the volume of commercial equipment financed in the U.S. The MLFI-25 is released globally each month, on the day before the U.S. Department of Commerce releases the durable goods report. The MLFI-25 is a financial indicator that complements the durable goods report and other economic indexes, including the Institute for Supply Management Index, which reports economic activity in the manufacturing sector. Together with the MLFI-25 these reports provide a complete view of the status of productive assets in the U.S. economy: equipment produced, acquired and financed.
The MLFI-25 is a time series that reflects two years of business activity for the 25 companies currently participating in the survey.
Companies in this article