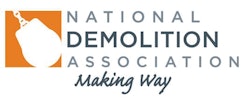 Three demolition contractors who have been on the ground cleaning up following the deadly 2011 earthquake in Christchurch, New Zealand, will give their first-hand descriptions of how the demolition industry has responded to the disaster in a major metropolitan city. The multimedia presentation takes place at the National Demolition Association's 40th Anniversary Convention in San Diego on March 25.
"The U.S. Geological Survey, the science organization of the U.S. government, has predicted with a 99 percent certainty that there will be a similar magnitude earthquake in California in the next 30 years," said Michael R. Taylor, CAE, executive director of the global trade organization. "Our panel of experts who have been working there for the last two years dealing with everything from downed utilities, lack of food, housing, and power, hazardous materials disposal, and the safe demolition of damaged structures will give a compelling presentation at our convention."
The goal of the presentation, Taylor added, is to enable government disaster response agencies, seismic experts and the public at large learn how California can deal in a similar and productive way after such a disaster.
The presentation entitled "Christchurch: The Disaster and its Cleanup" will be made by L. Mark Loizeaux, president of Controlled Demolition Inc., one of the world's leading implosion contractors; Peter Ward, president of Ward Demolition Ltd. in Auckland, NZ; and John Weber, former president of Iconco/LVI Demolition Services in Oakland, Calif.
The 6.3 magnitude New Zealand earthquake caused damage across the city, especially in the central city and eastern suburbs. Experts say the damage was made worse by buildings, roads and bridges that were already weakened by a 7.1 magnitude 2010 earthquake in the Canterbury region.
40th Annual National Demolition Association Convention
The National Demolition Association Convention takes place at the Hilton Bayfront San Diego, beginning March 23 and concluding March 26. The Exhibit Hall next door at the San Diego Convention Center features the world's largest exposition of demolition equipment, products and services.
The keynote speaker on Monday March 25 is former U.S. Navy Commander Mike Abrashoff, author of the best selling book It's Your Ship: Management Techniques from the Best Damn Ship in the Navy. His talk is entitled "It's Your Ship: Achieving Breakthrough Performance." Following his talk, the Association will present this year's Environmental Excellence Awards, recognizing public and private projects that show significant environmental conservation and community improvement.
Four Demolition Projects Take Home Environmental Excellence Awards
Also on the convention schedule are educational sessions on civil and criminal liability and OSHA; maximizing scrap vendor profits; PCBs in caulk; and the City of San Diego's construction and demolition debris ordinance. The opening night celebration will be held aboard the USS Midway, one of America's longest-serving aircraft carriers.
The 40th Anniversary Convention is open to all professionals involved in the demolition process, including those in demolition contracting, general contracting, civil engineering, recycling, scrap, salvage and other industries.
Companies in this article