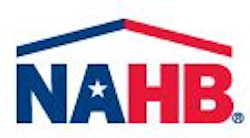 Builder confidence in the market for newly built, single-family homes rose six points to 57 on the National Association of Home Builders/Wells Fargo Housing Market Index (HMI) for July, released today. This is the index's third consecutive monthly gain and its strongest reading since January of 2006.
"Today's report is particularly encouraging in that it shows improvement in builder confidence across every region as well as solid gains in current sales conditions, traffic of prospective buyers and sales expectations for the next six months," noted NAHB Chairman Rick Judson, a home builder from Charlotte, N.C. However, he cautioned that "This positive momentum could be disrupted by threats on the policy side, particularly with regard to the mortgage interest deduction and federal support for the housing finance system."
"Builders are seeing more motivated buyers coming through their doors as the inventory of existing homes for sale continues to tighten," noted NAHB Chief Economist David Crowe. "Meanwhile, as the infrastructure that supplies home building returns, some previously skyrocketing building material costs have begun to soften."

Derived from a monthly survey that NAHB has been conducting for 25 years, the NAHB/Wells Fargo Housing Market Index gauges builder perceptions of current single-family home sales and sales expectations for the next six months as "good," "fair" or "poor." The survey also asks builders to rate traffic of prospective buyers as "high to very high," "average" or "low to very low." Scores from each component are then used to calculate a seasonally adjusted index where any number over 50 indicates that more builders view conditions as good than poor.
All three HMI components posted gains in July. The component gauging current sales conditions rose five points to 60 – its highest level since early 2006. Meanwhile, the component gauging sales expectations in the next six months gained seven points to 67 and the component gauging traffic of prospective buyers rose five points to 45 – marking the strongest readings for each since late 2005.
All four regions also posted gains in their HMI scores' three-month moving averages. The Northeast showed a four-point gain to 40 while the Midwest reported an eight-point gain to 54, the South posted a five-point gain to 50 and the West measured a three-point gain to 51.

Editor's Note: The NAHB/Wells Fargo Housing Market Index is strictly the product of NAHB Economics, and is not seen or influenced by any outside party prior to being released to the public. HMI tables can be found at nahb.org/hmi. More information on housing statistics is also available at housingeconomics.com.