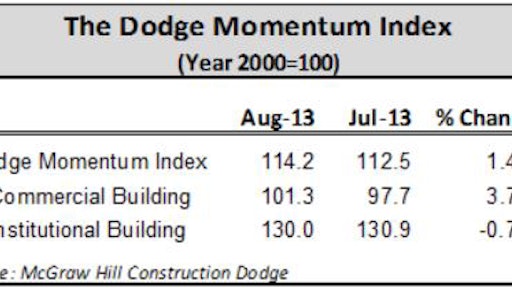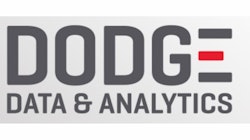 The Dodge Momentum Index, a measure of the initial report for nonresidential building projects in planning, advanced 1.4 percent in August to 114.2 (2000=100), according to McGraw Hill Construction.
The Momentum Index is said to lead construction spending for nonresidential buildings by a full year.
The Momentum Index had essentially leveled off during June and July, following steady gains during the first five months of 2013. With the August increase, the Momentum Index resumed its upward track, and is up 27 percent compared to the same month a year ago.
While the overall economy remains sluggish, prospects for commercial development continue to improve, as reflected by the growing volume of projects at the planning stage and strengthening market fundamentals such as occupancies and rents.
The August Momentum Index was bolstered by an upturn for its commercial segment, which climbed 3.7 percent. Among the larger commercial projects to enter the planning phase in August were several office buildings – a $100 million renovation to the Health and Human Services Building in Rockville, Md., a $90 million office building/mixed use development in Arlington, Va., and a 41-story office tower in Houston, Texas.
The institutional segment of the Momentum Index retreated 0.7 percent in August, marking its first monthly decline since February. Gains for amusement and healthcare projects were offset by a larger decline in plans for educational buildings.