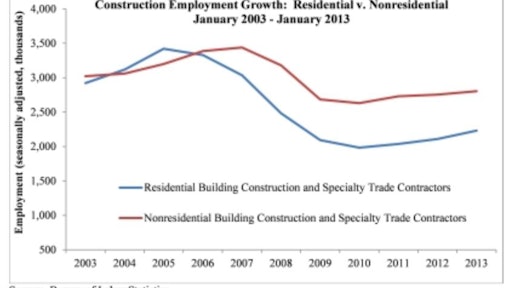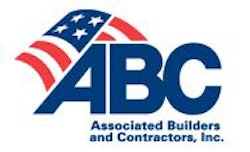 The construction industry gained 48,000 jobs in January, according to the February 7 employment report by the U.S. Department of Labor (DOL). Nonresidential construction gained 21,000 jobs, representing a significant rebound from the 14,100 jobs lost by the segment in December. Nonresidential construction accounted for 47.7 percent of January's total construction industry job gain and 28.1 percent of the construction industry job gain in the past year.
Construction Industry Employment Reaches Highest Level Since 2009
The national construction unemployment rate expanded to 12.3 percent on a non-seasonally adjusted basis in January, compared with 11.4 percent in December. This was due to a combination of seasonal factors and may be impacted by the end of the government's long-term unemployment benefits program, which may have induced people look for work in construction - an industry generally known to be in recovery.
"The fact of the matter is that we simply do not know with any conviction what is transpiring in the U.S. labor market," said Associated Builders and Contractors Chief Economist Anirban Basu. "With respect to construction, January's employment recovery is likely attributable in large measure to the fact that December construction employment was suppressed by weather. While January was also associated with bitter cold, large snowfalls and ice storms, the week during which the data was gathered last month represented a period of relative meteorological calm."
According to the Bureau of Labor Statistics' household survey, the national unemployment rate decreased a tenth of a percent in January to 6.6 percent. This represents the lowest unemployment rate since October 2008. The labor force participation rate increased from its historic low of 62.8 percent to 63 percent in January.
"Based on data regarding backlog, architectural billings and other leading indicators, the nonresidential construction outlook remains benign," said Basu. "However, the last two months have not been good ones for job creation, according to this release. The hope is that the lull in employment expansion will end shortly as temperatures begin to rise."
Nonresidential building construction employment expanded by 8,300 jobs for the month and is up by 21.9 jobs (3.3 percent) since January 2012.
Residential building construction employment rose by 13,200 jobs in January and is up by 52,200 jobs (8.8 percent) on an annual basis.
Nonresidential specialty trade contractors gained 12,900 jobs for the month and employment in that category is up by 28,400 jobs (1.4 percent) from the same time last year.
Residential specialty trade contractors gained 3,600 jobs in January and have added 69,200 jobs (4.6 percent) since January 2013.
The heavy and civil engineering construction segment gained 10,100 jobs in January and job totals are up by 6,800 (0.8 percent) on a year-over-year basis.
View the December employment report.
Companies in this article