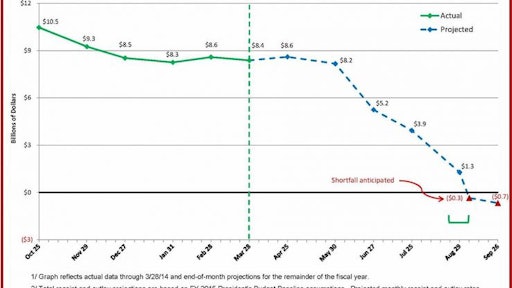 The U.S. Department of Transportation's monthly update of its Highway Trust Fund Ticker estimates the Highway Account of the primary source of transportation-infrastructure funding will fall to zero as much as a month earlier, running dry in late August. 
The Highway Account began the federal fiscal year 2014 (October 1, 2013) with approximately $1.6 billion in cash. A $9.7-billion transfer from the federal General Fund to the Highway Account ($10.4 billion authorized in MAP-21, reduced by sequestration) was processed shortly after the start of the fiscal year.
The surface transportation program continues to outlay at a greater pace than receipts. As a result, the cash balance has dropped by nearly $3.5 billion since the General-Fund transfer.
As of March 28, 2014, the Highway Account cash balance was $8.4 billion.
US DOT continues to project that the Highway Account balance will fall below $4 billion in late July.
At some point between when the Highway Account falls below $4 billion but before it runs out of money, US DOT will change its cash-management strategies to keep the account solvent. New strategies may include reimbursing states weekly instead of daily or paying states for only a portion of the reimbursement requests they submit. No new construction projects are likely to begin in that environment.
CONEXPO Video: ARTBA Economist Explains Likely Fallout from a Drained Highway Trust Fund
Based on current spending and revenue trends, the US DOT estimates the Mass Transit Account of the Highway Trust Fund will have a balance of approximately $1 billion at the end of fiscal 2014.
The Mass Transit Account began fiscal 2014 with approximately $2.5 billion in cash, and received a $2-billion transfer from the General Fund ($2.2 billion authorized in MAP-21, reduced by sequestration.
As of March 28, 2014, the Mass Transit Account cash balance was $3.2 billion.