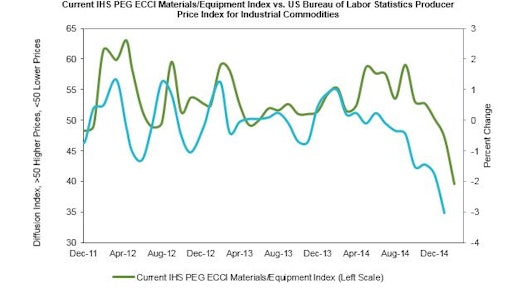 Reflecting bearish sentiment in commodity markets, construction costs fell again in February, according to IHS and the Procurement Executives Group (PEG). The headline current IHS PEG Engineering and Construction Cost Index (ECCI) dropped to 42.4 percent in February, down from 48.8 percent in January, and the lowest reading on record.
The current materials/equipment price index registered 39.6 percent in February, a fresh record low, and down from 47.2 percent in January. Eleven of the 12 individual components notched falling prices in February, led by copper-based wire and cable, carbon steel pipe, electrical equipment and fabricated structural steel. Notably, the softness in raw commodity prices is impacting pricing for equipment with turbines, heat exchangers, pumps and compressors all posting lower prices in February.
"The February results are unprecedented in survey history but do sync up well with the broad-based softness that we've been tracking in commodity markets," said Mark Eisinger, senior economist at IHS. "There is a growing sense that the largely one-way movements in commodity markets are revealing an unwelcomed truth about lackluster demand in the global economy. The commodity outlook is inextricably linked with Chinese growth, where excesses in debt accumulation, industrial capacity and housing inventories are hanging over the economy. This suggests that the softness in commodity prices will be the theme for 2015."
The current subcontractor labor index lowered to 49 percent in February, down from 52.4 percent last month and the softest reading since January 2012. Nearly all regions registered flat labor costs, with Western Canada as the only exception posting a slight easing. February marked the first time since August 2014 that the U.S. South did not register higher month-on-month labor costs. Nevertheless, tightness in skilled labor markets was again reported in the Gulf Coast.
The six month headline expectations index registered 48.7 percent in February, slightly higher than the 48.3 percent reading in January. Despite the small increase, for just the second time in survey history, the forward-looking index is by definition implying falling prices over the six-month horizon. The materials/equipment index dropped to a new low, with seven of 12 individual components showing falling price expectations. Pumps, compressors and turbines are the only subcomponents above the neutral mark. Meanwhile, expectations for subcontractor labor firmed slightly, increasing to 56.9 in February from 54.1 last month. The regional detail continues to convey strong expectations across the U.S. South.
Optimism for petrochemical projects
In the survey comments, the world's largest engineering, procurement and construction firms are being forced to reassess previously bullish sentiment regarding investments in hydrocarbon projects over 2015-2016. The rout in crude oil markets is having a chilling effect on capital expenditure plans, with budgets being scaled back, exploration slowing and aggressive contract negotiations. However, there remains some optimism that lower feedstocks will spur further proposal activity in petrochemical projects.
"While the recent slide in crude oil prices has certainly slowed down activity in the upstream energy sector, that doesn't necessarily mean a similar effect on new capacity projects slated for downstream petrochemicals," said Howard Rappaport, director of economics at IHS. "In fact, lower priced crude oil derivatives translate into more attractive petrochemical feedstock costs. This bodes well for those downstream petrochemical and plastics projects that will be based on crude – though some return on investment calculations may have to be re-evaluated."
The IHS PEG Engineering and Construction Cost Index (ECCI) is based on data independently obtained and compiled by IHS from the procurement executives of leading engineering, procurement and construction firms. The headline index tracks industry-specific trends and variations, identifying market-turning points for key projects and is intended to act as a leading indicator for wage and material inflation specific to this industry.
Each survey response is weighted equally for every $2 billion in spending in North America. Respondents are asked whether prices — either actual paid transactions or company-informed transactions — during the current month for individual materials, equipment and regional subcontractor rates were higher, lower or the same as the prior month.
Respondents are then asked for their six-month pricing expectations among these same subcategories. The results are compiled into diffusion indexes, in which a reading greater than 50 represents upward pricing strength and a reading below 50 represents downward pricing strength.