Through 2019, FMI expects engineering and construction spending to continue to grow at an anticipated 3% annual rate, with mostly positive, albeit moderately decelerating, growth rates across the residential, nonresidential buildings and nonresidential structures market sectors. Total U.S. engineering and construction (E&C) spending growth in 2018 is expected to finish at 5%, the same as in 2017. 
Spending growth in 2019 is expected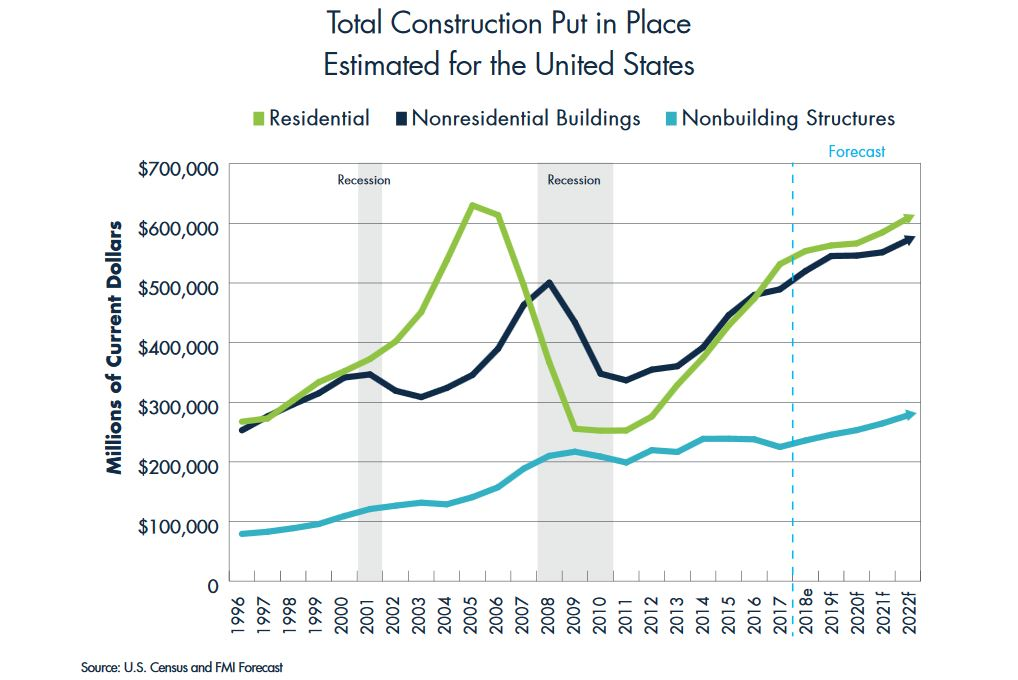 FMI expects engineering and construction spending to grow 3% in 2019, led by public investment in nonresidential buildings and nonresidential structures, after growing at 5% in 2017 and 2018.Data U.S. Census, Forecast: FMI to be led by public investment across both nonresidential buildings and nonresidential structures. Current top-performing segments forecast in 2019 include:
Transportation +9%

Public safety +6%

Educational +5%

Manufacturing +5%
Forecast bottom-performing segments in 2019 include"
Religious -5%

Multifamily -5%

Lodging -2%
Key segments that were upgraded into FMI's growth category going into 2019 include:
Educational
Manufacturing
Highway and street
Various other segments appear to be stabilizing this year, including three prior growth segments from 2018:
Single-family residential
Amusement and recreation
Sewage and waste disposal
Both lodging and multifamily were adjusted into FMI's down category this quarter with anticipated declines realized through the remainder of the year.
FMI warns that today's constrained labor situation, coupled with material-cost increases, compressed project schedules and ongoing margin compression are all creating more risk for E&C firms today.
"As we like to say: 'Contractors don't starve to death; they die from gluttony. They get too much work, too fast, with inadequate resources, and then they get into financial trouble and run out of cash,'" says Chris Daum, FMI's CEO.
FMI's senior consultants and directors offer detail advice in the 2019 FMI Overview based on seven key lessons:
Don't wait too long to make any hard decisions you have been deferring.
Find your own sweet spot and don't just follow the herd.
Work on the new, envisioned future and set the strategy for post-recession success.
Get a grasp on "incremental economics" like revenue, margin and overhead. 
Maintain a healthy balance sheet (i.e., cash and working capital) in the context of growth plans.
Get positioned in your market (and in the heads of your clients)—early.
Get more feet on the street.
Click here for the complete "FMI North American Construction Outlook"