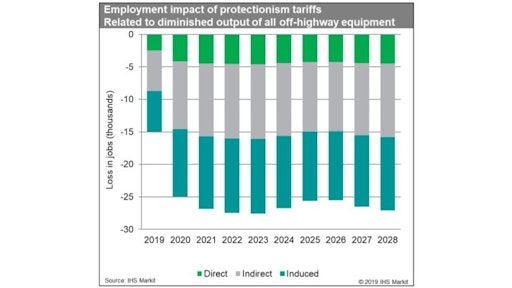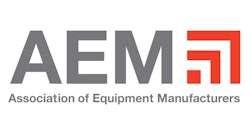 Tariffs Hurt the Heartland, a nationwide campaign against recent tariffs on U.S. businesses, farmers and consumers, released data last month* that found that the Trump administration's tariffs are costing businesses up to $2.7 billion each month and have caused exports of American products to plummet by 37%. Now, a new report released by IHS Markit, "The Economic and Industry Impact of Protectionism Tariffs on the Off-highway Equipment Sector," estimates the impact of the Section 232 and Section 301 tariffs on the equipment manufacturing industry and the broader U.S. economy. 
"This report shows that tariffs continue to take a toll on U.S. equipment manufacturers, who will pay significantly more to manufacture equipment in the United States in the coming years," said Dennis Slater, president of the Association of Equipment Manufacturers (AEM). "Tariffs on steel, aluminum, and Chinese imports, as well as the potential for additional tariffs, are driving up the cost of production, delaying capital investments, and impeding job creation for our more than 1,000 member companies."
There are currently tariffs on $250 billion dollars' worth of imports from China as a result of the Trump Administration's use of Section 301 of the Trade Act of 1974. This amount equals half of the total amount of goods imported into the U.S. from China in 2017. Separately, Section 232 tariffs or quotas on steel and aluminum imports have raised the cost of manufacturing equipment in the U.S.
According to Reuters.com, advocates of the tariffs have pointed to the nation's continued job growth and low overall inflation as proof that tariffs are not harming global manufacturers such as Caterpillar Inc, Alamo Group Inc and Terex Corp. Yet, equipment manufacturing executives attribute the increasing costs of manufacturing in the U.S. to the tariffs.
Caterpillar indicated last October that the impact from tariffs on steel and other materials was about $40 million in the third quarter of 2018 and that it expected tariffs to cost it between $100 million and $200 million for the full year. Alamo Group subsidiary Gradall Industries also noted it was forced to issue two price increases last year in response to higher-cost imports and steel, plus saw exports of its products to China plummet 30% to 40%.
In late January, the non-partisan Congressional Budget Office projected the potential long-term impact of the tariffs on the U.S. economy would limit growth of U.S. real gross domestic product by an average of 0.1% each year for the next 10 years if they remain in place at current levels.
Several of the report's key findings speak to the significant, long-term impact, including:
Placing tariffs on about $265 billion of imports will hurt the U.S. economy, largely from the direct effect of higher prices, yielding average lost GDP of $29 billion a year for 10 years.
The effect on employment is negative; the tariffs will suppress domestic job gains by 260,000 over 10 years.
Consumers will pay higher prices and reduce their real spending by $23 billion per year throughout the forecast horizon (ending in 2027).
The report also highlights specific impacts on the equipment manufacturing industry:
Tariffs will increase costs of producing U.S. agriculture and construction equipment by 6%. With its higher steel-related product content, the costs of producing U.S. mining equipment will increase 7%.
Total loss in employment related to diminished output of all off-highway equipment is projected to end the forecast period with a loss of 20,700 jobs. 
"While we agree with the Trump administration's concerns regarding China's unfair trade practices, including weak intellectual property protections, restrictions on foreign investment, and policies that limit competition," John Garrison, chairman of the board, president and CEO of Terex Corporation and AEM board member, commented, "tariffs only hurt America's businesses, workers, and families. We urge the Trump administration to negotiate solutions to these long-standing issues with China, de-escalate economic tensions, and remove broad unilateral tariffs."
*Tariffs Hurt the Heartland has also issued state impact reports for several states, including Wisconsin, Pennsylvania, Ohio, Michigan, and Indiana.