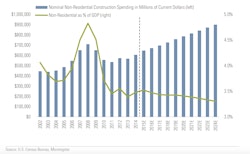 Morningstar's equity analysts find a diminished need for new nonresidential construction in many key sectors, including power and office. As a result, Morningstar's analysts project much lower total growth than consensus forecasts and a permanently lower nonresidential construction share of GDP. Highlights of the Construction Observer for U.S. nonresidential construction include:
Efficiency gains — or the ability to do more with a smaller construction footprint — are the key reason for nonresidential construction's declining share of GDP, but rising productivity and capital efficiency will be a net positive for the economy as a whole.
Morningstar analysts expect the greatest growth in the manufacturing, commercial, and highway and street sectors and predict weaker growth from the power, educational and office sectors.
Top picks in nonresidential construction include Martin Marietta (MLM) and Nucor (NUE), which are disproportionately exposed to the higher-growth sectors.
Greater spending efficiency, demographic shifts, residential real estate recovery, reduced overbuilding and slower spending in power and manufacturing are five themes that will define the outlook for nonresidential construction for the next decade.
Download this whitepaper to read the entire Morningstar nonresidential construction outlook report.