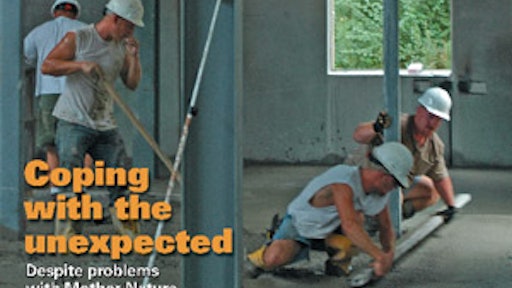 According to a recent study, scientists have determined that the Great Pyramids of Giza were partly constructed using concrete. The Egyptians who built these 5,000-year-old structures utilized the first blocks of limestone-based concrete cast by any civilization.
Today's world still recognizes concrete as a durable and efficient building material. Concrete technology and building techniques have changed a lot since the pyramids were built, and are still evolving year after year. One sector of the concrete market that has been gaining popularity in recent years is the ICF (insulating concrete forms) market. First patented in the 1960s, these stay-in-place forms started out as a foundation building material. As block technology advanced, contractors started taking forms above ground. Today, contractors around the world are using ICFs to build an array of commercial and residential structures. Their soundproofing qualities and up to three-hour plus fire rating make ICFs an attractive building system for movie theaters, schools, condominiums and apartment buildings. ICFs hold up far better than wood-frame structures against high winds and seismic activity. And any home or commercial building owner can enjoy the energy savings that ICF structures offer and their easy integration into green building design.
During my meetings with Concrete Contractor readers at the World of Concrete, I heard a lot about the future of ICFs, with some contractors envisioning a "revolution" on the horizon for concrete construction, specifically in regard to ICFs. This month's ICF Special Report (p. 34) speaks to those readers who want to learn how other concrete contractors are using ICFs in their businesses and how this expanding market is shaping up.
Safety first
I received several comments from readers about safety issues in the images that accompanied the cover story in the January 2007 issue. Thank you for taking the time to contact me. I know that safety is a top priority for all of you, so in upcoming issues I will cover a range of safety issues unique to the concrete construction industry. If your company has a unique take on safety and you're willing to share your experiences, please contact me at (800) 547-7377, ext. 1321 or Rebecca.Wasieleski@cygnusb2b.com.