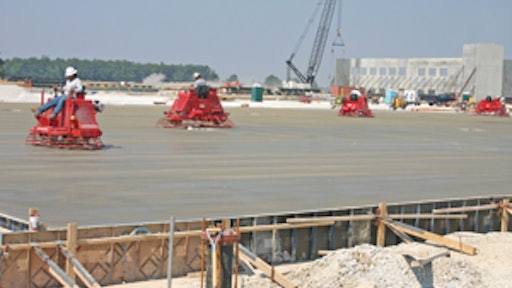 Ahal Contracting Co. of St. Louis (Bridgeton), Mo., is no stranger to large concrete jobs. The company has over 50 years of experience performing major concrete flatwork and architectural concrete installations for a variety of clients.
However, in the summer of 2005, the contractor faced an especially challenging job at the 1.1-million-sq.-ft. Dollar General Distribution Center in Marion, Ind. The Dollar General Distribution Center is an $8.5 million project on a 188-acre site located near Interstate 69. Once fully operational, it will employ over 500 people.
Ahal Contracting's portion of the project called for construction of 1.3 million sq. ft. of concrete floor, 374,300 sq. ft. of tilt-up panels and 200,000 sq. ft. of concrete pavement in an exposed environment, while meeting the owner's specifications associated with an enclosed, climate-controlled building. Conditions on the job were hot, sunny and windy with the occasional afternoon thunderstorm. Furthermore, concrete floors are always stressed in a tilt-up operation since they are used as the casting bed for the wall panels.
In order to overcome these obstacles, Ahal decided to employ advanced scheduling and the latest technology on its concrete pours.
Multiple tools for a high-quality finish
According to Bruce English, Ahal's operations manager, the slab pours began each day at 3:00 a.m. and typically finished by 2:00 p.m. The pours were 40,000 sq. ft. in size and the concrete was placed at a rate of 125 cu. yds. per hour.
Concrete was provided by Irving Materials, Inc. (IMI), Greenfield, Ind., which had a primary plant and two portables set up on the jobsite. Concrete was delivered by 14 dedicated trucks on the job. The slab mix design was a 4,000-psi non-air mix with blended limestone and a mid-range water reducer, resulting in a 5-in. slump.
Concrete was discharged from trucks and placed by a 12-man crew equipped with a Somero S-240 laser screed for slabs on-grade and an Allen Engineering Magic Screed for tilt-up panels and decks. A variety of floor flatness hand tools was used immediately after the screeding process. Confilm by Degussa Admixtures was applied after the bump cutting to keep the top of the slabs from drying too quickly.
Concrete finishing was accomplished by a six-man crew using two Allen Razorback HD 550 riding trowels with Compodisks to break open the floor approximately three hours after initial strike-off. The panning operation was followed by an HD 550 Rider with combo blades. One hour after the combo blade pass, two HD 530A rider trowels were used for the final floor finish.
The concrete floors were specified at FF50 for flatness and FL35 for levelness with Local Minimums of FF35 / FL25. Ahal was pleased to achieve slabs in the high FF60s to the low FF70s, which greatly exceeded the specifications.
Once the floors were done, the tilt-up walls were set using a 240-ton crane. Ahal poured 36 wall panels per week and set the panels three days after they were poured.
Ground was broken for the distribution center in July '05 and all concrete work was completed by October '05, which was ahead of schedule. The remainder of construction was completed in the fall of 2006 by Gray Construction, Lexington, Ky., general contractor for the project. The distribution center is the eighth such project Gray has constructed for Dollar General.
Read more Concrete Contractor articles at www.ForConstructionPros.com under the Concrete tab.