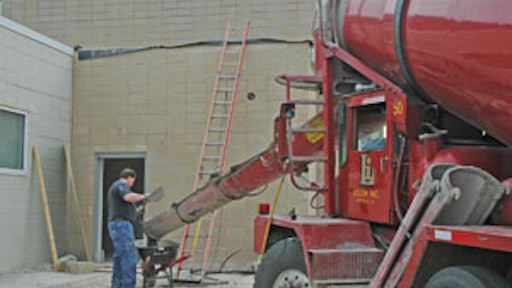 Greetings from Vegas
teaser: Photo highlights and breaking news from the World of Concrete.
Between demos, seminars and the exhibits there was plenty to see at the World of Concrete in Las Vegas. The next three pages feature just a few of the highlights. In the March issue, we'll have some of the hottest products from the show.
Click here to view photos from the World of Concrete Show.
U.S. ending duties on Mexican imports
One of the hottest topics among contractors at the show was the expected continuation of a cement shortage and rising prices in 2006.
It looks like some relief may be in sight, at least on a regional basis, after news broke on the last day of the show that the U.S. Commerce Department has struck a deal with the Mexican government to eliminate the import duties on cement from that country.
Under the proposed agreement, Mexican imports would be capped at 3 million metric tons for the next three years. During that time, the duty would be reduced from $26 a metric ton to $3. After three years, if the agreement is followed, all duties and restrictions would be eliminated.
The areas most likely to see relief are the Gulf states and the Southwest, where the cement can be easily imported. Because of the difficulties of transporting cement, it is unlikely to offer much help to other parts of the country, at least in the short term.
With demand for cement expected to increase this year by almost 4 percent, it's likely prices will continue to rise, after an average increase of 11.7 percent in 2005.
"Mexican imports are not a silver bullet," said Ed Sullivan, chief economist for the Portland Cement Association. "The best solution is increased domestic production."
The problem, Sullivan said, is that it is becoming increasingly difficult to find areas to build new plants in the United States because of zoning laws and concerns from local residents.
ECONOMIC OUTLOOK
Record-breaking cement consumption expected for 2006
More than 130 million metric tons of cement will be used in 2006, a 3.7 percent increase from 2005's record level, Portland Cement Association chief economist Ed Sullivan told an audience at the World of Concrete.
Sullivan said he expects a decrease in residential construction this year of about 2.2 percent, but that should easily be offset by increases in commercial (7 percent) and public construction (4.4 percent) after several years of declines. He identified new industrial and office buildings, hospitals and water supply systems as some of the key growth markets.
Other highlights of Sullivan's forecast:
Real GDP growth for 2006 will be 3.3 percent, down slightly from 3.5 percent in 2005.
Rebuilding activity in New Orleans probably won't really pick up until the second half of the year.
Consumer spending will continue to grow, but at a slower pace because of rising heat, gas and mortgage costs
Cement supplies will continue to be tight, with major expansions in domestic production not expected until at least 2008.
Job growth will continue in 2006, leading to rising labor costs as the market shifts in favor of employees.