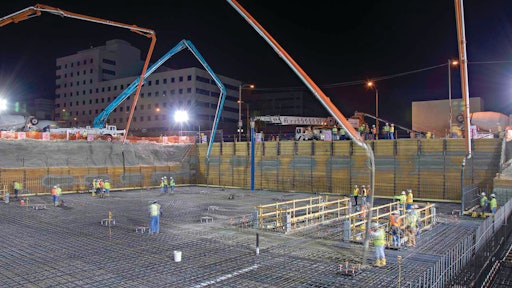 The Challenge:
Place 3,553 cubic yards of concrete for the first part of a new courthouse foundation while pouring at night to work in lower temperatures and less traffic impact.
The Players:
Sundt Construction, Inc.
The Process:
Beginning at midnight on Friday, June 8, Sundt Construction, Inc. executed the first of two massive concrete pours that will form the foundation of the new 290,000-square-foot courthouse shared by Pima County and the City of Tucson, Ariz.
Construction at the site, located in downtown Tucson, began February 1 and is scheduled for completion in August 2013. The first seven to nine months of the job are being spent on the foundation, just getting to grade level.
The foundation is 25 feet below grade and will measure approximately one acre, allowing the steel-frame building to have seven floors above grade. The exterior skin will be unitized curtain wall and precast concrete.
The concrete mat slab is divided into two parts, A and B. Section A was poured June 8 and section B was scheduled for the end of June.
Sundt had to pour at night because of the lower temperatures and the traffic impacts. The concrete had to be placed within 90 minutes of leaving the batch plant. Beyond that, it wouldn't be usable because it would set up too quickly and might not cure to the specified design strength of 5,000 psi. The contractor used chilled water and spray bars to keep the concrete cool.
Pour A took approximately eight hours to complete and included 3,553 cubic yards of total concrete covering approximately 20,000 square feet with 440 cubic yards of concrete placed per hour. Sundt used 70 trucks per hour for a total of 380 truckloads of concrete. Two redi-mix companies supplied the concrete.
Pour B included approximately 24,000 square feet requiring 4,000 total cubic yards of concrete placed at 700 cubic yards per hour. Continuous on-site testing during and after the pours ensured the mix was accurate and cured to the required strength.
The two sections of the foundation will be joined with a construction joint. The weeks between pours gave the project team a jump on the construction schedule in order to begin the concrete foundation walls.