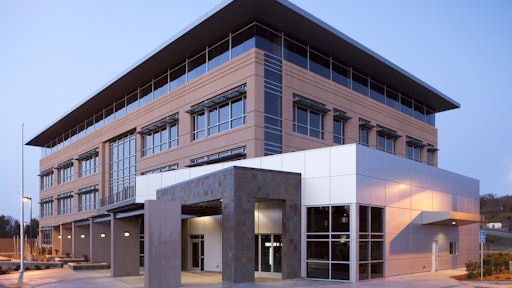 The challenge:
Complete tilt-up concrete construction in high seismic zone while liminit panel cracking due to shrinkage and thermal cycling
The players:
Barrish Pelham & Associates Inc.
The process:
The Folsom Cordova Unified School District Education Services Center in Rancho Cordova, Calif., utilized an innovative design solution to construct tilt-up concrete over the 40-foot code height limit in high seismic zones. To meet the demands of the architect and the developer for the Business Park, Special Reinforced Concrete Moment Frames were chosen to function as both the exterior skin as well as the Lateral Force Resisting System. The architectural spandrel beams are 5-feet deep, but structurally the beam depths needed to be 3-feet deep to meet strong-column/weak-beam criteria; thick slots at the beam/column joints provided this. Joints were architecturally masked with horizontal reveals. Panel rebar fabrication was primarily performed in the rebar fabricator's shop and sent as units for final site assembly. Architectural infill panels were incorporated within the typical Concrete Moment Frames to fulfill the desired fenestration for the exterior face of the building. The connections were designed for out-of-plane resistance while the use of rocking bearings allowed for maximum in-plane drifts.
Common to tilt-up construction, panel cracking due to shrinkage and thermal cycling had to be limited. Elevated slab dowels at the floors were wrapped in foam while seismic forces were transferred through dowels at the interiors of the frame. This alleviated restraint from shrinkage, allowed frame joint rotation and provided out-of-plane panel anchorage without restricting panel shrinkage/thermal displacement. This was also accommodated at the chord/drag strut splice via elastic lengthening of tie plates on the MC ledgers.
Project specifics
Project floor area: 73,700  sq. ft.
Project footprint: 188,600  sq. ft.
Tallest panel: 52 ft.
Widest panel: 30 ft.