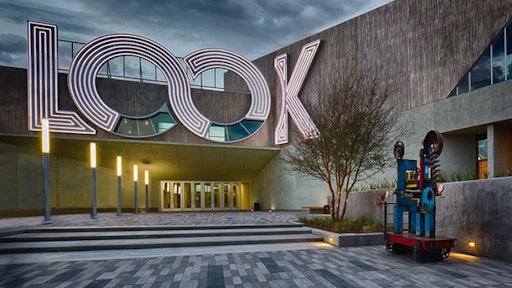 The challenge:
Build a 54,000-square-foot movie theater using tilt-up concrete panels designed with a custom form liner and as-cast finish.
The players:
TAS Commercial Concrete Construction
The process:
Look Cinema in Dallas posed some unique challenges for the concrete tilt-up contractor including a custom form liner, as-cast architectural finish and the building's geometry.
The custom form liner was a 1-inch-wide wooden plank pattern with random depths. This particular form liner had never been used on any project before.  
In order to meet project requirements for the as-cast surface the concrete had to consolidate around the form liner geometry. This was particularly challenging at the corners, cutting and adjoining form liner sheets. The form liner also had to be secured to the casting surface which meant it had to be stripped in a way that would not damage the finished product.
After multiple site cast mock-up panels, the team determined the mix design best suited for the panels, the method of securing the form liner to the casting surface and the means of cutting and abutting the form liner sheets to achieve the desired finish.
Project specifics
Project wall area: 61,520 sq. ft.
Project floor area: 54,684 sq. ft.
Project footprint: 45,000 sq. ft.
Tallest panel: 64 ft. 1 in.
Widest panel: 31 ft. 2 in.
Largest panel: 950 sq. ft.
Heaviest panel: 116,340 lbs.