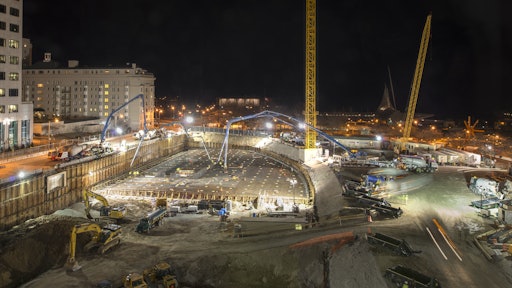 The challenge:
Placing 9,200 cubic yards of concrete over a 29-hour period for the foundation of the new Northwestern Mutal Tower and Commons in downtown Milwaukee, Wis.
The players:
Gilbane|CG Schmidt
Gordy's Concrete Pumping Service
Nuvo Construction Co.
The process:
In the spring of 2015, four Putzmeister truck-mounted boom pumps, 50 ready-mix trucks and more than 250 construction workers placed 9,200 cubic yards of concrete over a 29-hour period, setting a record for the largest continuous concrete pour in Wisconsin's history. The concrete was for the foundation of the new Northwestern Mutual Tower and Commons (Northwestern Mutual) in downtown Milwaukee, Wis.
Once complete, Northwestern Mutual's new 1.1 million-square-foot, $450 million project will consists of a 32-story office tower that will adjoin a two-block-long, three-story space known as The Commons, and will expand the company's existing downtown Milwaukee campus.
Working with the project's general contractor, Gilbane|CG Schmidt, a joint venture between Gilbane Building Co. and locally based CG Schmidt Inc, Northwestern Mutual is partnering with multiple local small business enterprises and a Milwaukee-area workforce on the initial phase of the project to employ nearly 1,000 local construction workers. Gilbane|CG Schmidt relied on the pumping expertise of Gordy's Concrete Pumping Service (Gordy's) out of nearby Sussex, Wis., to place the concrete using pumps from Putzmeister America, Inc. Nuvo Construction Co. (Nuvo), out of Milwaukee, is providing concrete for the massive project.
Loads of logistics
The large mat pour at Northwestern Mutual's site took months of planning and coordination between all parties involved. Nearby streets and sidewalks were closed from Thursday morning through Tuesday evening surrounding the weekend pour. To reach all four corners of the 38,500-square-foot foundation, Gordy's set up four Putzmeister truck-mounted boom pumps.
A 46-meter and a 47Z-meter were positioned at street level, while a 63Z-meter and a 55-meter were set up in a staging area adjacent to the hole.
Gordy's had two additional Putzmeister pumps nearby to serve as back-ups in case the crew encountered any mechanical issues, and Putzmeister provided a service truck with a service technician on site for the pour.
"The four pumps were able to easily reach every corner of the jobsite," said Mike Salmon, manager for Gordy's. "While we were prepared for any break-downs with extra machines on hand, we were really pleased that we didn't actually have to use them. It was also great to have a Putzmeister service technician right on site in case of any issues, but, fortunately, we had absolutely no problems with the pumps through the duration of the long pour."
The pour began at 7:00 p.m. on a Friday night and ended just after 12:00 a.m. on Sunday morning, with crews working continuously to complete the entire foundation for the project. In all, it required 920 concrete truck trips, with Nuvo dispatching material from three of its nearby plants.
"Gordy's and the Putzmeister equipment performed above and beyond what we expected, given 29 hours of straight pumping," said Kies. "We were pleased that there were no issues with the equipment whatsoever."
Harsh, specialized mix
A unique challenge with a continuous pour of this size is ensuring the concrete cures as one monolithic piece to eliminate the risk for cold joints. Several aspects of the mix design helped address this issue:
The concrete was poured at a temperature of 45°F to 60°F, well below the temperature of standard concrete mixes
The concrete utilized a hydration stabilizing admixture
The mix included a considerable amount of fly ash, which allowed for a slower, lower hydration temperature
Cooling tubes were installed during the pour at three different elevations. Cold water ran nonstop through the tubes for the duration of the pour and after the pour was completed.
The combination of all of these special components resulted in a tough, 6,000-pound concrete mix. Pumping the tough mix required the machines to work at higher pressures — up to 4,060 psi — throughout the 29-hour pour.
"The pumps performed flawlessly using a tough mix and high pressures over a long period of time," said Salmon. "You really can't ask for more out of your equipment. Our Putzmeister machines have been proven over the decades and are always reliable."
Going up
With the foundation for the new office building and commons now in place, the crews are getting to work building up to the 550 feet for the 32-story office tower. To pump concrete up to that great height for the decks and walls, Gordy's will be using a Putzmeister BSA 14000 trailer-mounted concrete pump. In total, Putzmeister equipment will be pumping approximately 50,000 cubic yards of concrete at Northwestern Mutual.
Anticipated completion for the project is slated for 2017.
Companies in this article