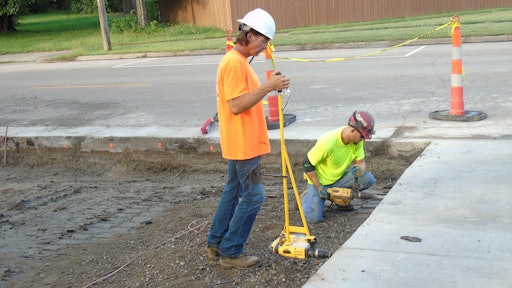 When Keller Construction is working on large Department of Transportation pours, like interstate projects, workers rely on a large multi-drilling machine to efficiently complete the necessary dowel holes, in the hundreds at times, required to attach the adjoining slabs to be poured. But when there's a patch or concrete pour in a confined space, workers leave the big drilling rig behind and grab a hammer drill and the BackSaver attachment to complete the task.
Keller Construction, located in Glen Carbon, Ill., is a multifaceted corporation covering virtually all aspects of heavy construction, from heavy highway, road and bridge work, to utility construction, demolition and earthwork. Their experience also extends to commercial and industrial site development, and private residential subdivision development.
Miles of infrastructure in the state of Illinois have been built, improved and reconstructed by Keller Construction. The company has served as general contractor, subcontractor and joint venture partner on many IDOT, county and local municipal projects. The company is also involved in a considerable amount of commercial and industrial projects for builders, developers, local governments and private parties, from small shopping centers to large industrial complexes.
Keller is also involved in single and multi-family residential developments, working on infrastructure improvements, including: site grading, utility installation, erosion control, concrete flatwork, paving operations and value engineering.
BackSaver – a good accessory
Aaron Suess, concrete superintendent for Keller, says the addition of the BackSaver hammer drill attachment more than six years ago has proved positive in both production capabilities and operator comfort.
"When you're working on highway projects or any project that requires joining adjacent slabs, you have to drill (dowel) holes in the cured slab as a way to keep both slabs from shifting," Seuss notes. "On a big project, we use a drilling rig that can accommodate one, three or five drills to speed up the process."
But on a curb and gutter, or other street improvement projects, often cutting out and patching a small section of concrete, it doesn't make sense to bring a large drilling rig out to complete the dowel holes before pouring the new concrete. In those situations, workers had to either bend over or get on their knees to hold the hammer drill in place.
Seuss knew Bruce Moore of Bruce Concrete Construction, located approximately 20 minutes from the Keller office, and he was aware that Bruce was developing a BackSaver attachment that would allow a hammer drill operator to drill holes from a standing position.
"I'm in the concrete business and one of my guys came up with the idea," states Moore. "We designed and continue to improve the design based on input from contractors using it, and then we have it fabricated by a manufacturer here in the states. We current have BackSaver models that will accommodate DeWalt, Bosch and Hilti hammer drills."
Seuss was one of the first concrete contractors to test the product, and revels at the popularity the device has generated among his 20 to 30 crew members. Seuss, who's been with Keller for 17 years and superintendent of the concrete division for the past 10 years, says the guys like the ease of operation the BackSaver attachment allows. With a knee pad on the device, an operator is able to use his body weight to maintain a constant force on the bit as it drills.
"There are always patches of concrete, large and small, on IDOT roads and subdivision roads that have failed and need to be replaced," Seuss notes. "Most patches require 20 to 30 holes to be drilled, and some require 200 or more. We use it (BackSaver) all the time because it saves time and money, and as the name says the operator's back."