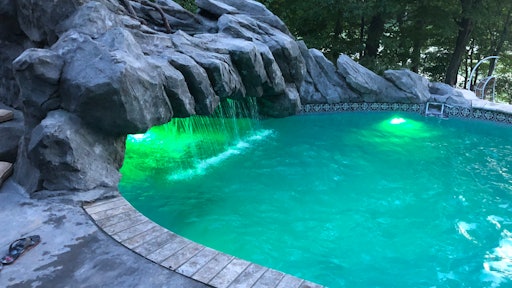 Beyond Vertical Concrete
When I think of decorative concrete, my first thought is a beautiful acid-stained, Flagstone-stamped concrete patio. This is not an article about a beautiful acid-stained, Flagstone-stamped concrete patio. This is an article about decorative concrete on steroids. Enter Joshua Russell and his company, Beyond Vertical Concrete's Creative Environments.
Russell has spent the past 10 years developing his distinct decorative approach by sculpting and creating three-dimensional concrete hardscape environments for clients.
When he was 13-years-old, Russell helped a relative who poured concrete foundations. At 17, he was running a decorative stamping crew. At 24, he gained experience with concrete pumping. In 2008, Russell entered the world of vertical decorative concrete, but was not impressed with the stamps available at the time, and that's when he started to sculpt the dimensional details he wanted to create.
The art of vertical concrete
Russell generally works with solid foam cores that he shapes with a hot-knife tool to create the features of his projects – from rock walls to mountains with a waterfall. Once carved, he then attaches a wire mesh that will be used to hold the first concrete base coat. After the base coat (skim coat) dries, he then applies a layer of concrete, generally 2-3 inches thick, to the vertical structure, which he will shape and carve the detailed features required to make a rock look like a rock, along with other realistic features that will bring a design to life.
"If the project is under 1,200 square feet, I'll hand mix the concrete I need and just throw the mud up onto the surface (in workable sections)," Russell notes. "Then, I have about a half hour to work with the material to shape and carve the details I want."
With larger projects (1,000-2,000 square feet), Russell uses a Carousel pulmonary pump to place the concrete on the vertical backdrop. For projects over 2,000 square feet, he moves to a shotcrete application.
Growing the business to a global market
While Russell is currently anchored in Byron, Mich., he travels around the United States and the world for that matter to work on unique vertical concrete projects.
"In the early years I used home improvement shows to market my service and the designs I could create," he states. "But for the past five years all my work has come through referrals from customers."
In between large projects, Russell and his crew of three create basement bar environments for clients wanting unique designs and features.
"We do incorporate some pretty unique concrete features and details on these projects, but the key is tying that unique bar space in with the rest of the space," Russell says. "The transition from one to the other is very important in the final look and feel of the entire space."
Whether it's designing and creating a unique bar/entertainment space in a client's basement or a unique outdoor oasis, Russell makes a point to deliver a final product that reflects the owner's interests and tastes.
A current project Russell just completed evolved over the nine weeks it took to complete. That's not uncommon, as Russell notes that most projects have added features by the time he completes them. The organic mountain grotto designed to enclose one end of a pool that he just finished included several added features as construction progressed. Using solid foam core to create the cavern, which will include a rain curtain off the front edge of the overhang, is the primary focal point of the backyard retreat. Other features include a sitting wall, cantilevered seating area and a fire pit located in the beach area behind the wall of the retreat.
"We used 38,000 pounds of concrete to create this project (not including the concrete required for the new pool) to create all the vertical features," Russell says. "We sprayed three inches (thick) of concrete over the features we created out of solid foam and then had about an hour to hour and half to carve and shape the designs. In that time, we completed about 95 percent of the initial shaping and carving and then had about three hours to finish and final carving."
After the concrete cured, Russell sprayed the sculpted concrete features with colored exterior latex paint (four-parts latex paint to one-part water mixture) to achieve the color finish and seal the surface.
"I apply four coats of the matte latex paint to protect the concrete and achieve the color saturation I want," Russell says. "I like using Modern Masters, which has a highly concentrated pigment that produces a true long-lasting color finish, but I can only do that when it's in the client's budget."
With all projects, Russell promotes a maintenance service to inspect the project every three to four years to see if it needs a new coat of finish to restore the color.
Since most of the projects involve several added features after Russell and his crew begin, original project estimates and added change orders are determined based on labor cost.
"I know the cost of any given project is going to be 70 percent labor and 30 percent materials," he says. "So, on this project, the original work we were contracted to delivered included three days to shape and install all the solid foam backing, two days to apply the scratch coat of concrete, four days to apply and carve the primary concrete coat, and a day to spray the color finish. An additional 25 percent was added to the final cost based on the additional features the client wanted."
The added features often come when clients begin to see how the project shapes and features start to look when the foam is cut and put into place.
"When they start seeing what it's going to look like, they can visualize what they're going to end up with and then they start thinking about adding some more features," Russell states. "There's just so much we can do with carved foam block supported by solid tube coring, that's it's relatively easy to add to or change the original project design."
As Russell has discovered over the past 10 years of building Beyond Vertical Concrete, there's not much he can't do with concrete to create unique environments for clients who want more than just a stamped concrete patio. He admits that he wants to be able to create anatomically correct figures that he wants to incorporate into some of designs, and you can be sure he will continue to try and fail until he masters that skill. That passion will continue to be his calling card around the world as he works with other concrete artisans who continue to expand the versatility and beauty of concrete.
"I'm part of a network of 50 (concrete) carvers around the world and when a special project, like the one I just finished, comes up, we can bring the expertise and crew needed to complete the work," Russell notes. "I'll be heading to Australia in January to work with Mark Hodges, owner of Decorative Concrete Dimensions, on a project. Mark helped me complete the pool project. I just really like how this part of the concrete industry is developing."