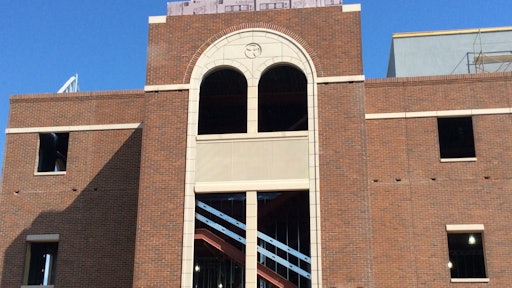 ACH Foam Technologies
The desire for new and different combined with a willingness to continually push toward the edge of possibility are frequently the fundamental ingredients of architectural innovation. What architects and engineers imagine, manufacturers and craftsmen must create, as the limits of innovation are continually reset through technological advances and thoughtful processes. In the realm of precast concrete architectural panels, often enough, unique means enhancing exterior surfaces with embedded ornamentation like arches, etched insignias, sculpted relief, and other integrated finishes that are far more complex to make than they look. The challenge of creating these surfaces economically while maintaining the structural integrity of panels that can weigh as much as 60,000 pounds falls to highly specialized pre-cast concrete panel manufacturers like Omega Concrete of Kansas City, Kansas.
"Omega Concrete has been building pre-cast panels since 1974, so we've seen a lot of change in the industry," says Keith Jensen, Vice President. Jensen oversees operations as Omega produces some $8- to $12- million in pre-cast panels and structural members annually for any combination of offices, schools, hospitals, churches, and other commercial projects in the Kansas City area. Getting started in the 1970's meant working with panels typically smaller than 30,000 pounds, or 8' x 32'. Today's panels can easily weigh up to 60,000 pounds, spanning more than 50' and up to 12.5' wide. Massive panel sizes have compelled a cultural shift across the construction industry that affects virtually everything on a precast building site from logistics and craning operations to trucking access, delivery sequencing, the equipment required to move massive panels, and the skilled labor securing them in place.
"As pre-cast panel construction moved beyond simple tilt-up walls for warehouses and industrial buildings, we started seeing more complicated work," continues Jensen. Higher education clients, hospitals, and commercial developers all appreciate the efficiency of pre-cast construction yet maintain high expectations for exterior finishes on their buildings. "Architects want inlaid brick or rock, arches, banding, and other design elements. The more intricate the shape, the more intricate the forming and that's where things get complicated."
Traditionally crafted from wood by highly skilled carpenters, formwork is essentially the mold into which concrete is poured as panels are cast. As the concrete hardens inside the mold, it exerts tremendous pressure and formwork must be precisely made to withstand the force. A great deal of the complexity of building formwork for inlaid patterns comes from the need to be able to remove it without damaging the finished panel once the concrete has set. To be cost-effective for the builder, intricate patterns built using wooden formwork need to be repeated across many panels. Fortunately, Omega Concrete and other pre-cast panel manufacturers across the country have a dedicated ally in advanced formwork manufacturing in ACH Foam Technologies, a recognized leader in Molded Polystyrene foam products for commercial construction. 
"The biggest problem with wood is that it likes to be cut straight," says Jensen. "Working with ACH Foam Technologies we are able to create nice, smooth curves for arches, precisely etched lettering and logos, all very difficult and expensive to do with wood." As an example, Omega Concrete recently worked with Ellison-Auxier Architects on a 40,000-sq. ft. expansion of Westerman Hall at Benedictine College in Atchison, Kan. In keeping with the college's Catholic identity and existing architectural heritage, the design called for large pre-cast panels incorporating a series of arches within arches, along with multi-directional bands and a cross insignia. "If we'd built that formwork from wood it would have been very difficult to strip out, time-consuming, and expensive."
For Omega Concrete, once the decision is made to use molded polystyrene foam formwork, ACH Foam Technologies' project estimator Sharon Witz is their first call. In selecting the right foam for the job, density is the first consideration since the thickness of the foam determines the amount of pressure it can withstand as the concrete expands. For Witz, establishing density is easy compared to figuring out how to build the layers of foam formwork in a way that can be removed without damaging the finished surface.
"Our role is to understand what the designer is trying to achieve and develop solutions within our capacities to fabricate intricate architectural elements with foam formwork," says Witz, who sees an estimated 50 purchase orders a year for foam being used as formwork for projects in the Kansas City area. "We try to look at it like putting together a puzzle, almost in reverse."
Witz and other ACH Foam estimators around the country break each design down based on the size, time, and material it will take to produce. Considerations include the required foam density, the layout of the cuts, and how the foam will be stacked and secured to create the formwork. The ACH Foam team then develops the required shop drawings, which detail every piece and every dimension of the formwork for the contractor and designer's review and approval. Once the purchase order is issued, the process of interfacing the design to the machinery used to cut the foam precisely is done through a CNC or Computer Numeric Control tool. As AutoCAD design technician, Troy Adams plots the cuts in the software his calculations must account for a 32nd-of-an-inch burnout in the foam caused by the hot wire blade as it cuts each piece. He also pays close attention to the densities used in each layer of foam, fine-tuning details like blade speed or heat to ensure the results are a smooth, clean cut every time.
One of the most interesting orders Omega Concrete placed recently involved creating a sculpted relief of a Chestnut Tree within a concrete panel. Multiple thin-cuts required to create the outer edges of the tree were combined with a layering effect to add artistic depth to a panel used to animate the entrance to an elementary school.
"Ultimately, we try to be problem solvers," says Witz of her 24 years of experience at ACH Foam Technologies. "From pre-cast panels with precise detailing to lightweight, structural solutions, building envelope and roofing insulations, the molded polystyrene foam products we make here are often a surprisingly simple solution to very complex construction challenges."