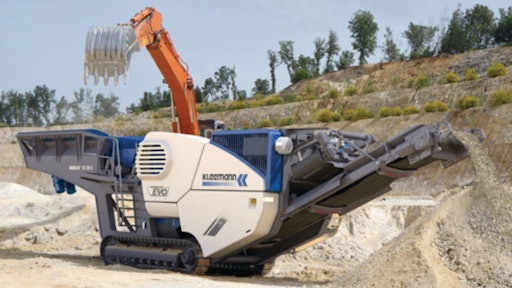 If you are a rock, sand, gravel or mineral processing industry veteran, you know that there are several different types and styles of crushing equipment. The exact crushers you need—jaw, cone, impact or gyratory—depend on the jobsite, the product you're making, and how much you need to produce.
An individual crusher's construction and capabilities also dictate where in your processing operations it will fit. That is, you may have multiple types of crushers situated in primary, secondary and tertiary stations in a circuit format to perform the necessary material reduction work. Each type of crusher brings unique strengths and benefits to the process.
This article focuses on compression-style jaw crushers, which are most often employed in the primary stage of a crushing circuit. It's important to know that cone crushers are sometimes used in their place, and we'll also talk a little bit about when cone crushers may be preferred over jaw crushers. 
What is a Jaw Crusher?
Jaw crushers are sometimes also referred to as "rock breakers," which speaks to their brute force. They are almost exclusively used as primary crushers because they excel at breaking up some of the largest and hardest materials into more manageable pieces for further reduction by different crushing equipment. Jaw crushers have a multitude of advantages, including:
Ability to handle many different types of materials—from hard granite to reclaimed asphalt pavement (RAP) and more—without displaying as much wear and tear as primary impact-style crushers.
Typically output minimal fine materials and dust.
More efficient than primary gyratory crushers.
Due to their smaller physical size, jaw crushers are also ideal for tight spaces, such as underground mining and mobile crushing applications, where some other primary crushing solutions do not fit.
What are the Different Types of Jaw Crushers? 
Jaw crushers have been around for nearly 200 years and are one of the most "historic" crusher types. Because of this, jaw crushers have undergone many technological advances through the years to become more durable and to improve their movement to reduce choking and increase operational speed. These design tweaks over time have perfected a machine that's simple enough in its working principle that it may never become obsolete.
Today, two main jaw crusher configurations can be seen from the major equipment manufacturers. They differ based on how the swing jaw moves, though their output is similar.
Double Toggle—Blake Type or Overhead Pivot Movement
Double toggle movement jaw crushers like the Blake style (named for the inventor of the first successful mechanical jaw crusher, Eli Whitney Blake) have long been the standard for crushing hard and abrasive rocks, as well as sticky feeds. These jaw crushers have high energy-efficiency. The overhead pivot design further reduces wear and tear on crusher faces versus the Blake style.
Single Toggle—Overhead Eccentric Movement
More compact than double toggle designs, the single toggle movement jaw crusher was at one time unable to accept such large feed sizes, though it can typically run faster. Technological innovations solved the feed size issue, and now these machines are popular for how quickly they work. They do experience more wear and tear than the double toggle style crushers, but wear parts are widely available and economical.
How Does a Jaw Crusher Work?
Different jaw crusher designs will operate slightly differently, but how they work is similar across the board. All jaw crushers reduce large sized rocks ore, or other materials by a compression action. A fixed jaw, mounted in a V-shaped alignment, is the stationary breaking surface, while a movable, "swing" jaw exerts force on the feed material by pushing it against the stationary plate.
The space at the bottom of the V-aligned jaw plates is the output gap that dictates the size of the crushed product from the jaw crusher. The rock remains in the jaws until it is small enough to pass through the gap.
The video below created by SANDVIK illustrates how jaw crushers operate.
Which are Better: Jaw or Cone Crushers?
While jaw crushers may always be a smart primary crusher stage choice for many operations, it's true that newer cone crushers are increasingly taking their place due to versatility. Cone crushers and jaw crushers both work by compression, reducing materials by squeezing them until they break apart.
The benefit that cone crushers offer over jaw crushers is their ability to output a more cubical product similar to impact crushers. Cone crushers have traditionally been used as secondary and sometimes tertiary crushing stations.
As far as answering whether one type of crusher is better than another, context is key. Everything comes down to what your production needs and goals are.
How Can I Find the Best Crushers for my Operations?
It's true that crushers are customizable to help you extract material, break it down into usable product, and get it to market most economically and efficiently. The best way to find the right crushers for your unique operation is to work with a knowledgeable material handling solutions partner like Kemper Equipment.
The right partner can help you design a custom crushing circuit to boost your productivity and transform your operations.
Editor's Note: This article was contributed by Kemper Equipment.