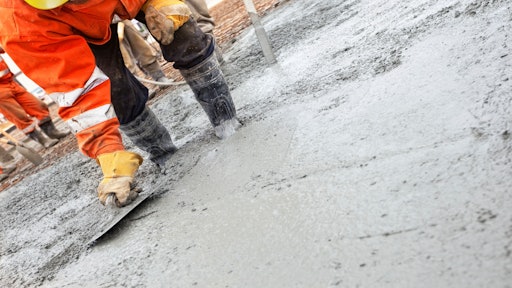 ISTOCK/GETTY IMAGES
When positioned in the upper or top portion of the slab thickness, steel reinforcement limits the widths of random cracks that may occur because of concrete shrinkage and temperature restraints, subbase settlement, applied loads or other issues. This type of reinforcement is commonly called shrinkage and temperature reinforcement.
When contraction joints are unacceptable and not installed, shrinkage and temperature reinforcement is required. This design approach is sometimes referred to as continuously reinforced or joint-less slabs and allows numerous, closely spaced (3 to 6 feet), fine cracks to occur throughout the slab.
Steel reinforcing bars and welded wire reinforcement will not prevent cracking. Reinforcement is basically dormant until the concrete cracks. After cracking, it becomes active and controls crack widths by restricting crack growth.
10 tips for crack width control

Steel reinforcing bars and welded wire reinforcement should be positioned in the upper third of the slab thickness because shrinkage and temperature cracks originate at the surface of the slab.
Crack-control reinforcement should never be positioned below the slab's mid-depth.
Reinforcement should also be placed low enough so saw cutting does not cut the reinforcement.
For welded wire reinforcement, the Wire Reinforcement Institute recommends steel placement 2 inches below the surface or within the upper third of the slab thickness, whichever is closer to the surface.
Steel reinforcing and welded wire reinforcement should be supported and sufficiently tied together to minimize movements during concrete placing and finishing operations.
Support reinforcement with chairs or precast-concrete bar supports.
Chairs should have sand or base plates and bars should have at least a 4-inch square base to ensure they don't sink into the subbase.
Use support spacings that ensure reinforcement does not sag between supports or is not pushed down by foot traffic or fresh concrete.
Flexible reinforcement including welded wire reinforcement requires closer support spacing.
Welded wire reinforcement should never be placed on the ground and pulled into position after concrete placement. The "hook and pull" technique always results in improperly positioned reinforcement.
For a more in-depth look into crack width control, read the article "How to Reinforce Concrete Slab on Ground to Control Cracking."