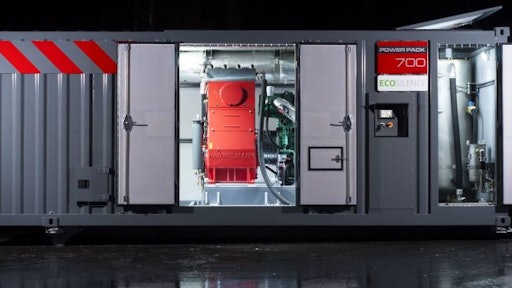 Aquajet
Sweden-based Aquajet today released its Ecosilence 3.0 power pack for hydrodemolition.
Company leaders hosted a live product launch and demonstration online this morning to showcase the new product.
The Ecosilence 3.0 is a high-pressure unit designed for all types of hydrodemolition applications.
The model is named for its sound-absorbing design, which features insulated walls and double doors and seals on doors and hatches. Aquajet says the model is well suited for urban areas with noise restrictions. The average noise level is as low as 57,5 dB.
"It's a brand new sound-absorbing design with total enclosure for harsh environments," says Roger Simonsson, Aquajet's CEO.
The Ecosilence 3.0 is also more fuel efficient and has fewer emissions than similar models.
The biggest upgrade to the 3.0 unit is the large air vents on the container and the heat exchange system, says Ronnie Hilmersson, Aquajet's chief engineer.
"Because we have this large area on the heat exchanger, we have a very low pressure drop over the heat exchanger and thereby we're using very little power," he says.
Specifications
The Ecosilence 3.0 comes in Power Pack 400 and Power Pack 700 models. 
Power Pack 400
Pressure: 980 bar (14,214 psi)
Flow: 166 l/min (43,9 US gal/min)
Tank volume: 820 l (217 US gal)
Noise level: 56-59 dB
Approx. weight: 9,500-10,000 kg (20,940-22,050 lb)
Container length: 6,1-7 m (20-23 ft)
Length L1: 7,010 m (23 ft)
Length L2: 6,058 m (20 ft)
Cargo length 23': 2,920 m (9.6 ft)
Cargo length 20': 1,970 m (6.5 ft)
Width W1: 2,438 m (8 ft)
Inner width W2: 2,105 m (6.9 ft)
Height H1: 2,591 m (8.5 ft)
Inner height H2: 2,258 m (7.4 ft)
Power Pack 700
Pressure: 1,040 bar (15,080 psi)
Flow: 262 l/min (69,2 US gal/min)
Tank volume: 925 l (225 US gal)
Noise level: 58-63 dB
Approx. weight: 11,500-12,000 kg (25,350-26,450 lb)
Container length: 6,1-7 m (20-23 ft)
Length L1: 7,010 m (23 ft)
Length L2: 6,058 m (20 ft)
Cargo length 23': 2,650 m (8.9 ft)
Cargo length 20': 1,700 m (5.6 ft)
Width W1: 2,438 m (8 ft)
Inner width W2: 2,105 m (6.9 ft)
Height H1:  2,591 m (8.5 ft)
Inner height H2: 2,258 m (7.4 ft)