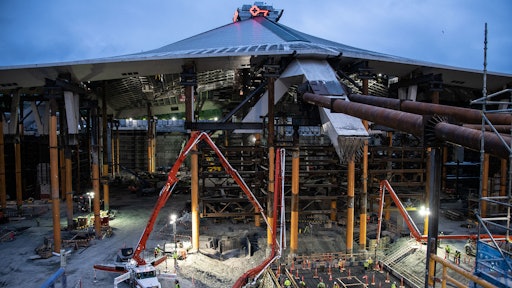 Deep Foundations Institute | Thornton Tomasetti
The Deep Foundations Institute (DFI) is an international association of contractors, engineers, manufacturers, suppliers, academics and owners in the deep foundations industry. Each year, a committee selects projects based on size, scope, challenges, degree of innovation, ingenutity exercised, and uniqueness of the solution(s) tot he difficulties of the job.
Announced on June 30, the winner of the DFI 2023 Outstanding Project Award is Thornton Tomasetti and the work done at the Climate Pledge Arena. The award will be delivered and presented at the DFI annual conference on Deep Foundations, October 31 to November 3 in Seattle.
This project ranks among the largest Thornton Tomasetti has designed for a tied back soldier pile and lagging system and is the most complex with regards to numbers and complexity of tieback installation.
"We are very proud of the part we played in being able to bring new life to such an iconic structure," says Michael Oakland, Ph.D., P.E., vice president, Thornton Tomasetti. The historic Key Arena has undergone a major transformation, and is now known as the Climate Pledge Arena and the new home of the Seattle Kraken NHL team. The $930 million renovation and expansion project required near-total demolition of the old structure and construction of a new one, all while keeping its landmarked façade intact and 44 million lb (20 million kg) roof supported above.
The steel and concrete structure was constructed in 1961, and the Seattle Landmarks Preservation Board classified Key Arena as a local landmark in 2017. This distinction requires that the roof, curtain wall and exterior concrete elements be preserved as part of the renovation with virtually zero impacts to their aesthetics. The central challenge of the renovation project became how to support the existing roof while work continued below it.
Its 65 ft (20 m) deep perimeter foundation wall system presented many challenges. Because of the need for an open arena and numerous slab openings, the interior floor slab diaphragm could not be used to brace the new foundation walls. Instead, the engineer selected permanent tiebacks as the wall support after considering several options for the perimeter wall system including a slurry wall, secant piles, soil nails and a permanent soldier pile and lagging system. And the design team had to rely on virtual imaging to identify and resolve potential conflicts in the complex tangle of tiebacks required to support the walls.
In all, the system included more than 650 soldier piles, each of which had to be installed in a predrilled 30 in (760 mm) diameter borehole and grouted in place. To support the walls there were 2,400 tiebacks with a total drilled and installed length of 130,000 lft (40,000 m). Finally, an earth retention wall allowed for excavation of 680,000 cu yd (520,000 m3) of soil.
Special Recognition
Special recognition awards are also being presented to four other projects:
East St. Louis Deep Cutoff Wall, Illinois, by Bauer Foundation
Milken Center for Advancing the American Dream, Washington, D.C., by Berkel & Company Contractors
ALCOSAN North End Expansion, Allegheny County, Pennsylvania, by Richard Goettle
1&9T-New Road, Jersey City, New Jersey, by Menard USA