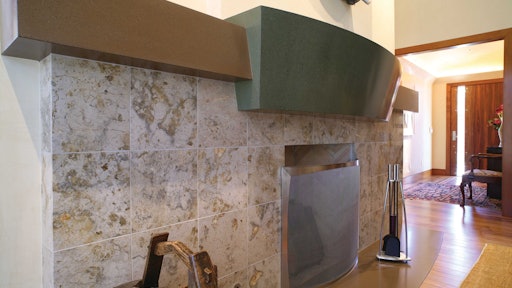 Bohemian Stoneworks, Sebastopol, Calif., focuses 100 percent of its business on decorative concrete. Patrick Miller started the company, which currently has five employees, in 2002. Miller was not in the concrete business before starting Bohemian Stoneworks - he was an Applications Engineer in high tech.
In 1998, Miller was building a new home and exploring surface options for his project. His father, a civil engineer, suggested concrete countertops. After doing a little research, Miller decided to make and install his own concrete countertops. Soon after that, friends started asking Miller to install concrete countertops in their homes. In 2002, Bohemian Stoneworks was born.
"We started working with homeowners. I really wasn't looking for business. I was excited about discovering a new passion. The architects, designers and builders we pursued later," Miller adds.
Learning his trade mostly through self training, Miller did extensive research through the Internet, attended seminars and the World of Concrete, and worked and networked with local vendors and ready mix suppliers. "We started with just very basic countertops. I then started with integrated sinks, fireplaces and more complex designs," Miller says. The company's current menu of decorative concrete products include kitchen countertops - it's most popular product - bathroom countertops and sinks, fireplaces, architectural elements like showers and flooring tiles, concrete furniture, water features, and planters.
Bohemian Stoneworks' focus on the residential industry has stuck with the company since the beginning with about 90 percent of its current customers coming from the residential side and the remaining 10 percent from commercial jobs, Miller says.
Most of the company's customers are looking for high-end products, so Miller makes sure he works closely with each client to fulfill their personal needs. And with such a diverse group of clientele, Bohemian Stoneworks tailors its approach based on the type of customer it is working with.
"We address the customer groups in unique ways," Miller says. Designers usually e-mail their plans and then Bohemian Stoneworks will produce an estimate and samples from those specifications. With homeowners, Miller's main goal is to make the process as simple as possible. "A lot of homeowners come in overwhelmed with their projects so we want to make the process as simple as possible for them".
He tries to get the homeowners into the showroom and then works on customizing their projects from there. Builders are more concerned with efficiency, scheduling and quality so Miller makes sure to address these issues during meetings.
As Bohemian Stoneworks continued to acquire more work, Miller spent more time focusing on pursuing architect and designer customers. "When I got serious about making this a career I approached a kitchen and bath store and they agreed to show my work in exchange for a finder's fee on customers they brought my way," Miller says.
About 90 percent of Bohemian Stoneworks' decorative concrete is custom work, which demands highly skilled craftsmanship and no margin for error. The company is currently looking to expand its production and get more money out of its facility by developing a line of non-custom decorative concrete items, Miller says.
"Right now, we can only handle so much custom work. In between these bigger custom jobs we can keep everybody busy - with the non-custom items - and help the company grow," Miller says. The line of non-custom products will also give customers the option of purchasing products off the showroom floor, he adds.
Miller uses Google's free software program SketchUp for designing fireplaces and sinks. He says it lets him model the project in three dimensions and allows him to add the actual concrete color and texture to the model. In his experience, the final project comes out very close to the 3D image from the software, which has made getting a signed contract for those projects much easier, Miller adds.
While Bohemian Stoneworks is known for unique, custom concrete pieces, its menu of services isn't the only thing Miller hopes the company will be recognized for. The company has taken significant steps to make its business more sustainable.
"We recently moved our business from a rural location to a warehouse in town," Miller says. "At this location we cannot discharge any of the production waste water, so we researched water recycling systems and built one ourselves," he adds. "We now have a total production water recycling system."
The company also uses calcium sulfoaluminate cement (CSA) in its concrete which has lower embodied energy and a lower carbon dioxide discharge than regular cement, Miller says. Another way the company saves is to use little to no steel reinforcing. Instead, Miller uses glass fiber reinforced concrete (GFRC) which allows him to pour the concrete thinner and use fewer raw materials. And to make sure the employees are working in a healthy, safe environment Bohemian Stoneworks also uses lithium silicate densifiers and sealers with lower VOCs.
What's to love about decorative concrete?
Miller loves that decorative concrete always challenges him with interesting designs and the task of figuring out how to make it work for the customer. He says the appreciation he sees and receives from his clientele is another one of his favorite things about working in the decorative concrete industry. For Miller, it's rewarding to see a happy customer who has been involved in the process from the beginning.