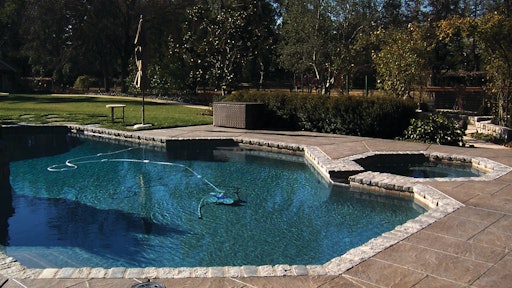 Mark and Gina Richardson have been in the concrete overlay business for 15 years. Since starting Richardson's Concrete Effects, Sacramento, Calif., the Richardsons have been offering a full range of decorative concrete resurfacing services to their customer base, which now spans the greater Sacramento area. Half of that business comes from decorative concrete pool deck overlays, Mark Richardson says.
"It really helps update a house and is a cost effective way to go," Richardson says. "This is a great finishing touch on your landscaping."
Richardson says approximately 75% of the pool decks he does are on old, existing concrete and often times will include overlays on patios or walkways as well. "A lot of times people have a hodge podge of different concrete that they want all done to look the same."
A typical size pool deck overlay for Richardson varies between 600 to 2,000 or more square feet. A residential pool deck overlay usually takes five days to complete from start to finish, Richardson says. That time length will vary depending on factors such as size, prep work and weather, he adds.
Prep work is the first step of a pool deck overlay, and it starts with cleaning. Richardson uses a 3,500 psi pressure washer to do the job. Any old coatings on the concrete need to be removed as well. Then any necessary repair work is done. "The most typical is removing concrete that is in bad shape. That has to come out and we repour it," Richardson says. Cracks are another common problem. To repair cracks, Richardson uses a concrete saw to open them and then fills them with an epoxy.
Richardson's overlay mix consists of SGM stampcrete mix and a modified polymer resin. The polymer modified resin is used to ensure the overlay bonds to the concrete or substrate. This type of mix tends to be sticky and may take a while to get use to using, Richardson says.
The overlay gets mixed in 5-gallon buckets with a Milwaukee drill and mixing paddle. A thin, 1/16-inch-thick base coat is hand troweled onto the concrete first. Once the base coat is dry, a thicker coat is hand troweled over the base coat. This thicker coat is the decorative coat which gets colored and/or stamped and is usually 1/4 to 3/-8-inch-thick, Richardson says.
Richardson's specialty is stamped overlays, but he also offers smooth trowel or broom finishes upon customer request. Richardson uses Proline stamps to create the different rock textures he offers for pool decks. "There are so many different textures with Proline stamps, and I tend to carry about six or eight of the most popular ones," he says.
"Once the surface has been overlayed and stamped, smooth troweled, or broom finished, it is then stained," Richardson says. Richardson uses Semco stains and applies them to the overlay after it is dry because this gives him better control over the color. "We use a gray or white cement base and then use various techniques to add the stain," he says. These techniques include spraying, brushing or even sponging the stain onto the concrete.
Before staining, Richardson always makes a sample board from the overlay so colors can be tested and the homeowner can see what the finished product will look like. This is where Richardson's wife Gina, a chemical engineer, steps into the action. "While we're doing the prep we make a sample board on the job. Then Gina, after picking out colors with the homeowner, will start to antique those colors on the sample board," Richardson says. This gives the customer the opportunity to change his or her mind before the pool deck is stained.
When it comes to sealing a pool deck overlay, Richardson says to choose a sealer that will allow your deck to maintain lasting beauty. Sealing against chemicals in pool water does not raise any special concerns. "Once you've sealed the concrete it should be able to resist chlorines, acids and stuff like that," Richardson says. But you need to choose the right sealer for the job, he adds.
When it comes to sealing decorative pool decks, Richardson uses Elitecrete sealers. "We prefer solvent-based sealer on the pool decks; they seem to be more UV stable and hold up better and longer against pool chemicals than the water-based sealers," Richardson says. This is also true when sealing pools that use salt water, he adds.
One concern many customers might have is whether the overlay will be slippery. To solve this, Richardson always adds anti-slip beads to his sealer. And to make sure the beads are evenly spread in the sealer and over the pool deck, Richardson suggests mixing the beads and sealer in a 5-gallon bucket and using the mixer and paddle every once in a while to mix the sealer again. "If you don't, the beads tend to go to the bottom and you'll have some patches with more anit-slip in it," he says.
Maintenance on pool deck overlays is rather simple. Richardson suggests pressure washing at least once a year to keep the overlay and sealer in good shape. Resealing will be needed but varies depending on the pool deck. Residential pool decks should be resealed about every three to four years. Commercial pool decks usually need resealing every two years, Richardson says.
One last concern when it comes to pool deck overlays is the pool itself. It's probably safe to say no homeowner wants the overlay material to be dripped into the pool. If it is an existing pool that is not being updated, Richardson only requires that the water level be at least halfway down the tile line. And to prevent any spills, Richardson says he drags a pool float along the inside edges of the pool as he is working so any drips will drip onto the float.
"You don't want to plastic the pool off because you get debris onto the cover and when you go to remove the cover the debris falls into the pool. So we never mask off a pool," Richardson adds.
Like many decorative concrete services, pool deck overlays allow contractors the opportunity to create unique looks stamping, staining or creating decorative patterns. As Richardson points out, with pool decks, "the sky is the limit."