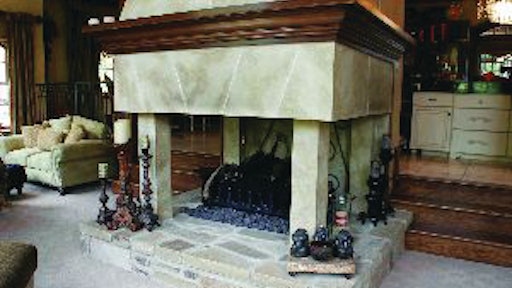 Concrete contractors are great at crafting cementicious materials into decorative features. But concrete isn't the only material some contractors are using to create custom decorative touches for homeowners. Even if you are loyal to concrete, you may be looking for ways to diversify or add to your services. In that case, you may want to consider the type of work MichaelPizzolongo Sr. does.
Pizzolongo, also know as "The Pizza Man", is making a mark in home customization creating a faux brick look with stucco and concrete. Pizzolongo has over 30 years of experience in the industry, and considers himself both a contractor and an artist.
In the early 1980s, Pizzolongo started his own business in Tampa, Fla., where his primary clients were builders in custom home developments. In 1995, Pizzolongo moved to Tennessee where he reopened his business and has been serving the Sevier and Knox county communities since.
Pizzolongo now offers custom plastering, restoration and repairs as well as custom artisan stucco work. His stucco and concrete work has been quite a hit with his customers. He uses Sakrete brand stucco and cement color paints to make his decorative work a fraction of the weight but with the same look as traditional brick and mortar.
Pizzolongo says he likes to use stucco because it is a decorative finish meant for walls and ceilings as opposed to concrete, which is often used for floors. Pizzolongo says stucco is applied in a thinner coat than concrete, which helps account for its lighter weight. However, that thinner coat can result in a possible downside. "You don't have as much time to work with it as you do with concrete," he says. "Stucco material dries a lot faster."
Pizzolongo uses his faux brick stucco method to create decorative looks on fireplaces and hearths. The steps in the method are similar for most fireplaces, he says. The main factor Pizzolongo considers when varying the method is whether the fireplace and hearth frame is made from wood or block.
The first step in Pizzolongo's process is to place materials on the hearth's surrounding floor to protect it from any cement. Pizzolongo then cuts a sheet of galvanized wire lath to a ½ inch shorter than the desired length and depth of the hearth and screws it in.
If the frame of the hearth is made from wood, the wire lath is extremely important, Pizzolongo says. "If it is made out of block I still use wire lath first, but it is not as important as over a wood frame," he explains.
Next, Pizzolongo spreads a gray scratch coat over the entire hearth, including the top and sides. The stucco coat is then spread on top of the scratch coat. Pizzolongo uses Sakrete High Strength Type S stucco mix. "It is complete with sand, so it saves time," he says.
To create the look of bricks and mortar, Pizzolongo uses a hand-made, U-shaped tool to cut through the colored plaster and expose the gray coat beneath. To add color for the brick look, Pizzolongo uses color pigments. Spotting colors on the "brick" completes the job, Pizzolongo says. "A good cut brick job can be ruined if the colors are not believable," he says. Pizzolongo mixes powdered color pigments with cement powder and then uses a sponge to spot the brick. "The cement powder gives the spotting colors holding ability so they don't wash off from rain outside or cleaning inside," he adds.
Pizzolongo has also used this method to create a brick and mortar look on already established walls in wine cellars. This Mediterranean-style exposed brick gives the feel of an authentic Venetian wine cellar, no matter where the homeowner lives. These wine cellars are also popular with Pizzolongo's clients.
Like decorative concrete contractors, Pizzolongo has found a way to use cementicious materials to create decorative touches that add another dimension to homes.