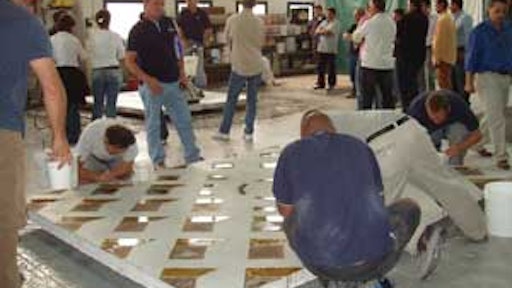 When you look at the origins of decorative concrete, which has been around for 100 years or so, it can be considered in its infancy when compared to some of the beautiful indigenous materials used in decorative construction techniques across the world, which have, by the way, been used for thousands upon thousands of years in regions where architecture truly originated.
Two years ago we were asked to teach a class in Athens, Greece, on concrete countertops, overlay toppings with stains and dyes, and epoxy coatings. I remember being at the construction site where we were holding our training, facing our group of students and looking past them to the background and seeing the most incredible view of the Parthenon. Talk about a humbling experience! It was strange that our Greek friends were so amazed with what we were able to achieve with concrete in terms of shaping and molding it, not to mention the endless color combinations, while at the same time we were blown away with the most beautiful detailed local structures that were still standing after almost 2,500 years.
Throughout Europe up until roughly 15 years ago, decorative concrete was something that one had heard of or read about but was not largely accepted since concrete was thought to be better suited for utilitarian purposes. After all, why would one choose decorative concrete, which can be considered by many purists to be a faux finish, when they had an endless surplus of incredible natural minerals virtually in their backyard? As a result, the European decorative contractor was fighting tradition early on!
On the other hand, on a smaller scale decorative concrete was well on its way in the early 1990s. It was around this time that Euro Disney broke ground using many architectural finishes that were considered the launching pad for the European decorative concrete market. More and more manufacturers saw an opportunity for this market and actually set up full production manufacturing plants to be able to capitalize on the business.
As the demand for new and innovative products increased abroad, the demand for training and education followed. As a result, we found ourselves once again in Europe teaching decorative concrete in 2007. We made two trips across the pond, once to Castlefranco, Italy, (45 kilometers from Venice) and then a trip that included stops in Paris and Rome.

Talk about architectural overload! Reading about these locations in history class does not do them justice. What a source of inspiration many of these locations are for us decorative concrete addicts!
The training site in Italy was at a friend?s facility called Ideal Works, owned and operated by Luca Seminati. We were impressed with the professional atmosphere of his business. Over the span of four days we had two separate training classes - one for the local contractor base and the other twoday class for participants flying in from different parts of Europe.
Both classes were maxed out at close to 25 participants. Many of the attendees proudly shared their portfolios of past successful installations. We were amazed at the quality of their work and how far they had come in such a short time frame. Based on discussions, stamped concrete was the most widely used of all the decorative applications with stained concrete and polished concrete quickly becoming popular in the area as well. It was apparent to us that decorative concrete was not just a passing fad but rather a legitimate finished hard surface alternative to the real deal.
Recently, we completed a fourday class held close to Paris at the Moderne Methodes facility owned and operated by Frederic Jung and partner Mike Archambault. Mike, a seasoned decorative concrete veteran and former president of Pattern Concrete Industries, decided to get out of the daytoday grind of stamping concrete and have a shot at the training and distribution side of the business. He mentioned that during his installing tenure it was frustrating that some of the remote locations he worked in across Europe did not have the conveniences the States has in regards to being able to drive down to a local dealer and purchase tools and products. As he put it, ?the motivating factor for making the transition from installer to educator was to help teach the local talent and make tools and products easily accessible.?
By the looks of it, he and partner Fred have done a great job of setting up shop. This facility has been in operation for nearly two years and has already established a very impressive customer base catering to the decorative concrete professional.
Our class at Moderne Methodes included 24 students and covered topics such as polished concrete, skim coats with stains and dyes, vertical stamping and stamped overlays. As with our trip to Italy, I was equally impressed not only with the amount of attendees but the quality of their work. Strangely, unlike Italy, stamped concrete was not the most widely used application in this area of France but rather micro topped floors in varying shades of gray.
Reflecting back to my first international teaching trip almost 15 years ago, times, products and techniques have made drastic changes. Considering the attendance levels and the quality of inplace work in these locations, you can bet this market is on the verge of erupting. Based on what we have witnessed in this market, decorative concrete is quickly becoming the real deal!
Bob Harris is the founder and president of the Decorative Concrete Institute, Temple, Ga., which provides handson training in architectural concrete. He has personally placed or supervised the placement of more than 3 million square feet of decorative concrete and is the author of a bestselling series of decorative concrete books and DVDs. For more information, call (877) DCI8080 or visit www.decorativeconcreteinstitute.com.