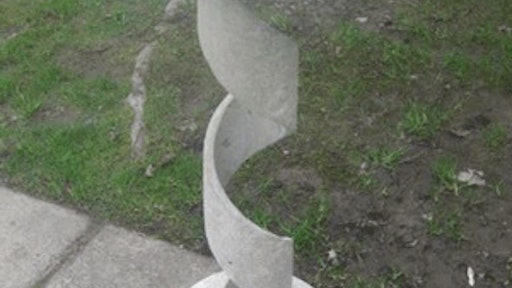 Preben Petersen is a decorative concrete contractor in San Jose, Calif. A former woodworker, Petersen started his career in the decorative concrete trade about a year ago. Around that time he took a GFRC (glass-fiber reinforced concrete) class at the Concrete Countertop Institute. The ultra-strong fiber reinforcement in GFRC offers high flexural strength and allows contractors to create some impressive designs that can not be achieved with other types of concrete.
Despite going through the course and hands-on training with the material, Petersen was skeptical about GFRC. "I was not convinced it would have the strength and flexibility they said it would have. I wanted to create something to convince myself," Petersen says.
So Petersen set out to create a GFRC piece with a fragile design. Once it was done, he was going to do his own testing on the object's strength. The challenge -- a concrete planter with a twisted, DNA helix-like base.
Petersen started with a PVC drainage pipe. He wrapped polystyrene around the pipe to create the twisted design and secured it with wire. He utilized a form release agent on forming materials.
The GFRC mix he used was heavy on the fibers and he kept the mix on the dry side so he could apply the mix by hand and shape it. He also created platforms for the top and bottom of the planter.
After a curing period of 18 hours, Petersen removed the mold. Expecting the twisted base to crumble into several pieces, Petersen says no one was more surprised than he was that the planter base came out unscathed. "The most difficult part of this project turned out to be getting the PVC pipe out," he says.
"This project took away my apprehension about GFRC. I was sold on the product and now it is the only thing I use for my formed pieces," he says. Petersen has created an array of products since his first experience with GFRC -- coffee tables, a BBQ area, large tiles, benches, a picnic table and stools.
While his projects grace the homes of his clients, that twisted GFRC experiment has a home in Petersen's backyard as a plant stand that reminds him every day that GFRC's limits are endless.