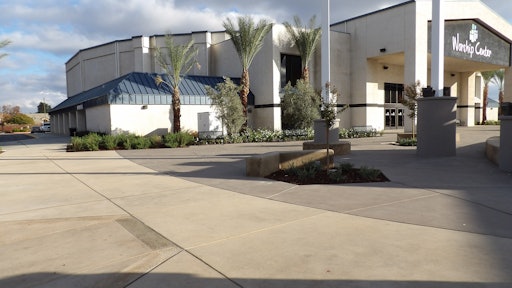 Life is filled with special moments and sometimes the place where these moments happen is an important part of what makes them special. Whether we are celebrating the birth of a child or affirming our faith, providing a memorable backdrop for life's milestones is an important part of what makes a well-designed space successful. When the Northside Church in Clovis, California decided to reinvent their stretch of lawn as a dynamic new multi-purpose plaza, the primary goal was to create something special.
"In early conversations about the new entry plaza, the church's goal was to provide a place for people to connect - to their faith and to one another," says Terry Broussard, Principal with Broussard Associates, who led landscape architecture services for the redeveloped space in front of the church, which opened in September 2016. The new multi-purpose plaza accommodates a wide range of church functions ranging from large-group baptismal weekend services and small-group prayer studies. Broussard believes that effective landscape architecture ought to positively impact the way people live, work, play and pray and strives to mix architecture, horticulture, engineering and art into a single practice.
"The church was committed to the idea of creating a space that invited others in. Thinking of those who might not be attracted to traditional churches was key." To expand the range of interest and energize the plaza during daily use, The Frappe House, a new handcrafted coffee shop was built animating the baptismal pool and amphitheater seating. In all, the plaza design objectives were to connect the church's primary entrance, the youth ministry center next door and the coffee shop while also servicing individual and group baptismal celebrations in a harmonious space.
"This plaza really has a lot of interesting programming possibilities beyond the baptismal space," says Broussard. The design blends a lot of forms and walls, rock work and fire pits, along with both integrated and moveable seating choices. Roll up garage doors and roughhewn raw materials fill The Frappe House to capture contemporary design sensibilities common to many chain coffee shops. "The whole design has a more progressive, culturally relevant feel than church spaces do traditionally."
The challenge was in working to accommodate a diverse program of possible uses and group sizes. Baptismal weekend services might be attended by a hundred or more while weekday bible study may engage only a handful of teens after school. Appropriate exterior spaces that accommodate many different groups and purposes also had to be fit into a relatively small area tucked between three structures of independent functions. Creating harmonious connections throughout the plaza while having a modern, socially contemporary design aesthetic led Brussard to the use of curvilinear patters spiraling out from the baptismal pool in the center of the design. Radiating outward, the patterns form seating areas, viewing sections and gathering spaces as the plaza steps up from the baptismal pool toward each building. The use of curves allows the energy of each space to easily be focused on either the main building it serves or conversely toward the center during baptisms. The key to tying it all together, Broussard shares was in the primary hardscape choice – decorative concrete.
"Decorative concrete is wonderfully flexible in terms of being able to create virtually any combination of color and texture and shape imaginable at a reasonable cost," continues Broussard. "Bomanite's concrete products are a very viable solution for public spaces where design matters and ordinary broom finished concrete isn't going to feel special."
Broussard took the clients to see several different decorative concrete projects and then introduced them to Heritage Bomanite, which serves central California from their Fresno office. Heritage Bomanite has been on the vanguard of the specialty concrete movement since they became the third Bomanite Licensed Contractor in 1973. Owner, Sergio Ilic, appreciates the opportunity to work with clients like the Northside Church to fine-tune the product selection process with a visit to his showroom.
"Having clients come in, see and feel the different products and understand all of the variables is essential to ensuring satisfaction," says Ilic. The final scope of work included 41,000 square feet of flat work, 650 lineal feet of walls, and some 4,000 square feet of polished concrete in The Frappe House. "They ended up using a combination of the Refined Antico finish in Bomanite Light Brown, and three integral colors all with Bomanite Sandscape finish to get the cohesive yet varied look they wanted to connect the spaces."
Though Ilic admits that Heritage Bomanite isn't likely to be the cheapest option on any specialty concrete project, his clients understand that the inherent quality in his work comes from a combination of Bomanite's product integrity and the craftsmanship his team employs to complete each project.
"Bomanite products are being installed by independent Licensed Contractors all over the United States," says Ilic. The team at Heritage Bomanite regularly attends Bomanite training session where they share experiences and technical knowledge with other crews from around the country. In part, it is the comradery among the Bomanite Licensees that helps set such a high standard for Bomanite as a versatile solution for decorative hardscapes. Ilic suggests that it's in the variety of products from a single, reputable source that make the difference in the finished work.
"The Northside Church is a great example of what can be done to make a space extraordinary – really it's about helping designers create a sense of place."