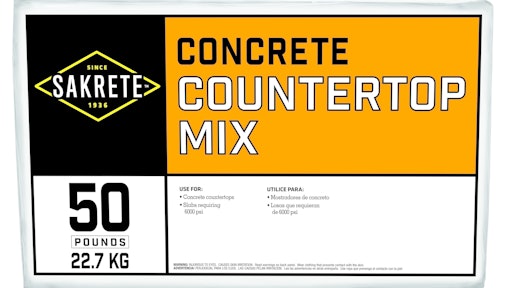 In recent years, concrete countertops have made a splash in home design. From kitchen redesigns that look to replace tile or laminate to modern industrial retrofits, you can find concrete countertops in a variety of spaces. With its unique style and practical application, it's not hard to see why. This year, at the World of Concrete show, Sakrete will debut a new concrete mix specially formulated for countertop use.
"Materials once thought to be unconventional for interior applications are now making their way into the home," said Andrew Krawchyk, Sakrete and Amerimix National Product Manager. "As consumers look for ways to blend indoor and outdoor spaces, we're aiming to help professionals understand these formerly uncommon uses of concrete and how the products can help them provide customers with what they want."
Sakrete Concrete Countertop Mix can be manipulated to fit any design aesthetic. Using a form, contractors can pour the mix on-site to create the exact shape and thickness desired. The Concrete Countertop Mix can also be dyed any color to match interior design and décor. Once poured, the mix takes about 24 hours before you can strip the forms to finish. As with any concrete countertop product, it should be properly sealed using a food-safe product after it cures.