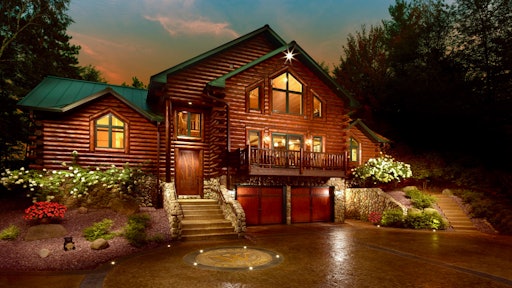 Alchemy Concrete Inc.
Change is inevitable. This could be an unwelcome happening or exactly the push needed.
In the small town of Nelsonville, Wisc., you'll find a decorative concrete contractor harnessing every skill they have to take concrete and make it beautiful. The town is a small market (population 155 according to the 2010 census) but the area hosts lake homes and vacation houses—opportunity for a decorative concrete contractor.
While in college Judah Haas, president of Alchemy Concrete Inc., started out like many contractors had—working for local concrete contractor. In 2001, he started a small flatwork business and ended up buying out the contractor three years later in 2004. "He got into more foundations and we were growing," says Haas. "So, we formed a new company: Alchemy—the power and process of change." It's this ability to accept change as it comes, adapt, and to create beauty just may be the secret to their magic.
According to the company, they pour colored concrete every day; 70% of their business from specialty or decorative concrete or "high-end backyards" with supplementing the business with foundations, regular driveways, and patios.
One of these high-end backyards earned them 1st place in the 2020 American Society of Concrete Contractor's (ASCC) Decorative Concrete Council's (DCC) Decorative Concrete Awards competition in the "Cast-in-Place Stamped" award for a project under 5,000 sq.-ft. The project ended up exemplifying Alchemy's ability to handle change.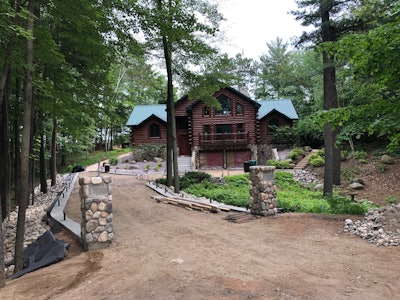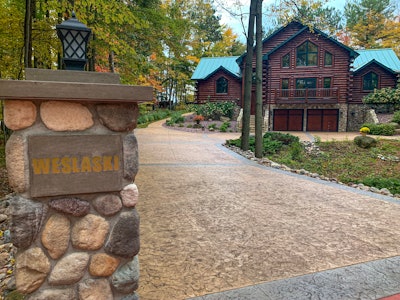 According to Chris Sullivan, a decorative concrete specialist from the ASCC, Alchemy's team earned its recognition through the project's overall size, scope, and producing a wide range of stamped decorative finishes on one project is a significant challenge with fantastic quality. Judges recognized the skill and work done in the project through the realistic use of color and texture. One commenting, "this is as much art as it is science and process."
"Overall this project impressed the judges as a great example of what high quality stamped concrete should look like," says Sullivan. "It was an example of the best of all aspects of decorative concrete work."
The DCC Awards have become one of the largest and most prestigious award programs highlighting the best of decorative concrete worldwide. There were over 120 entries in the 2020 program in 11 categories.
According to Sullivan, the program's purpose is to highlight the industry and the beauty that can come from concrete. "We also highlight the installers and showcase their award winning work across multiple media formats. The goal is to continue to grow the program, encouraging more companies to enter projects for consideration."
Submitted projects are reviewed by aesthetics, craftsmanship, functionality, creativity, and safety. The program is open to ASCC and non-ASCC members. The 2021 award program entry deadline is March 31. Awards are planned to be presented at the ASCC Annual Conference in an in-person in St. Louis, Mo. late Sept. 2021.
A Work of Art
Starting the lake home project, Tom Dunbar, Alchemy Concrete Inc.'s director of design and landscape architect met with the client in December 2018. "Originally it was just extending their driveway doing decorative with borders and decorative colored panels," he says. It grew from there.
It went from that to adding a walkway in the back, adding a patio, adding a walkway and stairs to the lake, adding steppingstones around the back of the house, adding new steps, to working on a new driveway along the road. "From the time we started this to the time that we finished it, it went from the road…right down to the lake," says Dunbar.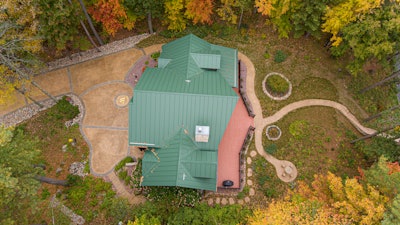 "These guys are really good at designing on site and helping customers," he adds, referring to Haas and Alchemy's director of operations, Charlie Wanty. "They help 'see' what it could be. It's that interactive process and on [this] project it never stopped."
What started at a $35,000 project, blossomed to about $160,000—including all unplanned issues along with. With a few hold ups along the way, it ended up being a three to four month long process completing in the spring of 2019.
Among the many unique features in the project, the client wanted to get hands-on. Poured and cast in the Alchemy shop with the owner, she designed a table featuring a dragonfly made of colored glass.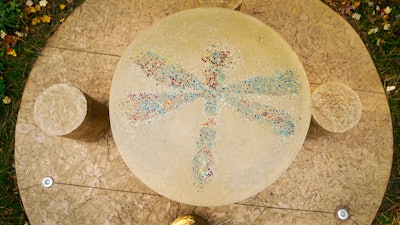 Besides the structural wall going down to the lake, almost every part of the project included a type of stamping. They used a slate texture from an Oxford slate stamp by Butterfield Color. "We had different colors going up with different pieces of it, but it had the same texture through the whole thing so it was kind of seamless there," says Haas. They take the stamp into the consideration regarding saw cuts and design, says Dunbar. Placing them at just the right spots to allow the cuts to act as part of the pattern itself. They used a 4,000 exterior blended mix of Ready-Mix with a small fiber for shrinkage control and cracking and BASF colors.
Additionally, the project included step-stones hand-carved from concrete creating a sidewalk on one side of the house.
Challenges
One challenge came from the lake's high water. At the time of construction, it was up two to three feet above normal levels. "There's a lot of zoning and ordinances," explains Wanty. "We had to meet with the county and set backs and water high marks. The water [had] been as high as it's ever been. We had to have a water shed plan and then there was township. We actually didn't do a small portion of the project because of some township ordinances, so there was a lot of navigating square footages and pervious area."
Having been working in Wisconsin for over a decade now, Alchemy's no stranger to these situations, handling permits, zoning, as well as understanding how to deal with the site, the environment, the typography, the soils, and rocks are all part of the process.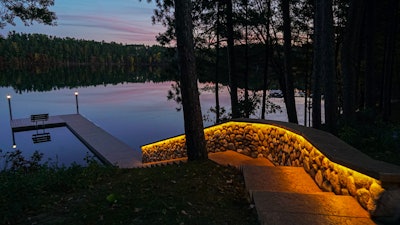 A part of the project did require some shoreline restoration at the lake. Overcoming this challenge, Alchemy used envirobags (70% sand and 30% black dirt) to build a living retaining wall so it could "grow" into the shoreline over time. Unfortunately the high water did not allow the use of heavy machinery so much of the work was done by hand. Here, they had to act as landscapers, shoreline restoration experts, as well as concrete guys. "We had to [build] that retaining wall underwater," says Wanty. "Because this project quadrupled…the shore line wasn't part of the original [plans]—if we wanted it done, the Alchemy team was going to do it. With subcontractors being so busy, 3, 4, 5, 6 months out—getting a shoreline guy out there wasn't happening."
Stormwater management had to be a special consideration. Alchemy worked with the county to control where stormwater went. Because the work was so near the lake, they had to be sensitive that the water did not run into the lake and special grading was done at the front of the house to divert the water.
The total flatwork was 4,350 sq.-ft. Pumping was subcontracted to local contractor Potratz Concrete Pumping. Due to the decorative need, placements were done in smaller pours instead. To get more control over the design and accomplish the required finished product, Haas explains that they typically pour their borders first and dowel those slabs together. "For instance, we'll put all the borders around…we'll do four pours every hour and a half—three yards vs 12 yards at once," he says.
The original plan featured solar lights at the entrance. A feature that proved troublesome due to the location's surrounding trees. Solar wasn't going to work and needed to be switched with wired lighting. "That held us up for a week or two. We were done with work and ready to pour. Iit got all tore back up again for lights. But it was worth it," says Wanty.
"That's part of what we do, we respond to the situation, to the client," says Dunbar. Maybe there lay the magic ingredient to Alchemy Concrete Inc.'s success—having the skill to not only change concrete into something beautiful but the willingness to change to meet the needs of the project as well as the client. "That's what we're good at," he says.
Haas agrees. "You have to learn to say, 'you can do this and you can't do this.' We have the patience. You can create some incredible things with good people. That's the key to success in business. That's what were' trying to do. You do that first and everything else comes."