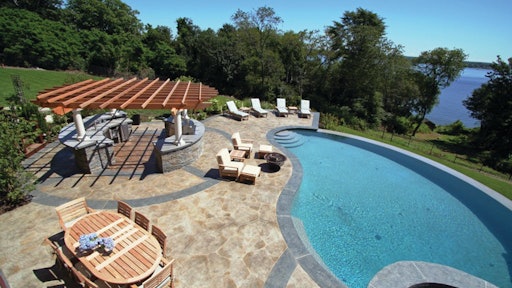 After the originally specified materials for a commercial pool deck put too much of a strain on the client's budget, Rich Capachione, owner of New England Hardscapes, was faced with a challenge -- what materials to use now. In need of a process that was affordable as well as visually appealing, Capachione turned to a stamped concrete hybrid technique.
The project, a 2,500 square-foot pool deck located in Port Smith, R.I., was originally specified to use flagstone with bluestone bands running throughout the area. In place of the flagstone and bluestone, Capachione decided to use stamped concrete enhancing the standard look by carving the surface. "We realized that we could easily achieve the desired texture by stamping, but by adding creativity and artistry we could create a surface appearance that closely resembles real stone," he says. As a result, Capachione created a process that was both visually appealing beyond what traditional stamped concrete can offer as well as cost efficient.
New England Hardscapes, located in Acton, Mass., offers services including design and construction of outdoor living areas, hardscapes and decorative concrete driveways, patios and walkways.
The project began with a new, monolithic pour incorporating glass aggregates in the mix as well as using a Scofield beige integral color. Capachione also troweled in tiny glass aggregates to create a realistic stone fleck appearance.
Then, the crews stamped the concrete with a seamless stone texture, without a pattern, going back through texturing the surface.
Three to four days after the surface was stamped, the crews began carving in the patterns. "We cut the pattern in the concrete, after it was already hard, to mimic flagstone - everything from varying all the joint widths to varying the size of the stone so there were no repetitive patterns," Capachione says. "To mimic bluestones, there was a whole series of bands that ran through the patio, and we used some stains to achieve that look. We were able to control the exact layout just by cutting the pattern after it was already stamped."
One benefit to this process is the realistic look of the finished product. "When we cut our patterns we are paying close attention to what real flagstone looks like," Capachione says. "They're not circular and they have a lot of hard angles. You have to pay careful attention as if you were piecing together a real flagstone patio because all of your joints aren't going to match up perfectly."
Because flagstone can have varying characteristics such as joint widths and stone size, Capachione and his craftsmen studied the look and placement of flagstones to achieve the most realistic surface.
This process allowed New England Hardscapes to determine onsite where the control joints needed to go. "What you're doing is adding your control joints right into the pattern," Capachione says. "We can add as many control joints as we need without visually impairing the project. If you ever get hairline cracks that jump outside of the control joint you can make a couple more decorative cuts and grout them and they will disappear."
After the cuts were made, the crew began grouting and adding stains to achieve greater control over the color as well as enhance the natural appearance of the project. Five different colors were used on this project.
A mild acid wash was completed and helped expose the glass aggregate. Prior to staining, Capachione poured several test slabs to provide the client with staining samples. Then, the surface was stained and sealed. Capachione used several colors from Scofield as well as Scofield's acrylic sealer.
Capachione has completed many projects using the stamped concrete hybrid, and he has found such success with it that he has taught over 25 other contractors throughout the country.
This method may require more work than a standard stamped concrete surface; however, Capachione believes that the visual result left for the clients is worth it. "This is sort of what we refer to as a stamped concrete hybrid or architectural concrete," Capachione says. "We were able to achieve a much more dramatic, original look over what I think traditional stamped concrete would have offered."