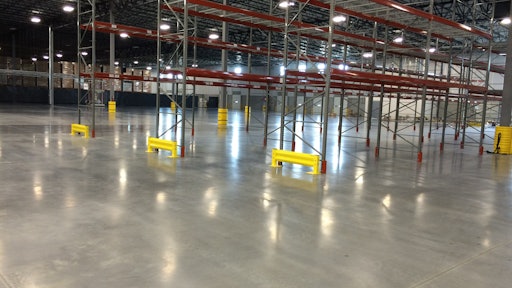 SpecChem LLC
Chances are, along with the increasing popularity of concrete polishing we've experienced in the past 15 years, you've also started to hear more and more about concrete densifiers. In its simplest form, a concrete densifier is a chemical solution that, when applied to a concrete surface, increases surface density by reacting with the concrete, hardening the surface and sealing pores.
Increased surface density means a harder surface and more surface strength. These alone make densifiers a key component in warehouse flooring and the concrete polishing process.
The Truth About Densifiers
Traditional acrylic cure and sealers were once the norm for high traffic industrial and warehouse flooring applications.
Even with the early development of concrete densifiers, they were not exactly the "go-to" solution for hardening, sealing, protecting, and extending the wearability of industrial concrete floors.
In fact, a host of reasons – primarily related to the use of fluorosilicate-based compounds ("lith-type" liquid hardeners) made the use of densifiers much less efficient than densifiers employed today.
A generally cumbersome and labor-intensive application process, along with the fact that applicators were dealing with a highly acidic – and increasingly regulated – hazardous material, were among a host of obstacles that made the use of early fluorosilicate densifiers less popular, despite their benefits.
The evolution of chemical densifiers, however, has changed the game considerably.
Today's concrete densifiers utilize silicate and siliconate-enhanced agents, which give the densifier the properties of a sealer and create a more water resilient, moisture resistant floor – while still maintaining all the other benefits of a densifier - improved strength, increased surface hardness and added stain resistance – all while being a safer, more environmentally-safe and VOC-free solution.
Densifiers come in many different varieties – or carriers – for silicate and siliconate agents. Potassium, sodium, and lithium silicate densifiers are all popular and have some benefits. Colloidal carriers are also a chemically sound option, but are often cost prohibitive on the larger jobs that benefit the most from the use of densifiers.
The addition of lithium silicate has become one of the most effective developments in densification to date, with benefits to alkali–silica reaction (ASR) reduction, less efflorescence, and making over-application of the product much easier to clean up.
Why Use Concrete Densifiers?
Even in their earlier days, the use of chemical concrete densifiers added value to industrial and warehouse floors, enabling the concrete surface to develop an integral gloss while also acting as a sealer and dustproofer by decreasing permeability and increasing stain resistance.
But the benefits of today's improved chemistry have made the use of densifiers a near-necessity, as they create a non-membrane forming barrier that won't discolor or peel, and helps prevent tire marks. In fact, daily use and regular cleaning actually self-polishes the floor, buffing a shine into the surface, improving gloss over time.
The use of densifiers is beneficial to nearly everyone involved in the process, from project owners to contractors to applicators.
Owners will enjoy a more wearable, abrasion and stain resistant surface that reduces dusting and permeability while being easier to clean, resulting in reduced maintenance costs.
Densification also improves light-reflectance and gloss, enhancing the appearance of the concrete surface. Ultimately, densification results in a significant increase in the surface hardness and density of concrete, providing a concrete surface that is going to be harder and more durable, resulting in a longer lasting floor.
And both owners and contractors already appreciate the cost-savings of going with a polished concrete solution. Concrete densifiers continue to add value to the bottom line by reducing materials and labor costs with a one-time, permanent application process.
Additionally, contractors are working more efficiently with a densifier that cures, seals, hardens and prevents efflorescence, while also being compatible with most integrally-colored concrete and concrete stains and dyes.
Densifiers are also versatile, and are finding a home with specialty contractors. For example, their compatibility with bond breakers (check with your manufacturer for recommendations) in the tilt-up concrete segment give contractors the flexibility to save time and money by reducing steps and extending product coverage.
Ease of use, that simplification of the application process, and a safer, less hazardous chemical solution has also made the use of densifiers much more efficient for applicators as well.
When to Use a Concrete Densifier
The use of concrete densifiers in terms of project application is widely agreed upon. Basically, any polished concrete application will benefit from the addition of a chemical concrete densifier. Polished concrete surfaces have become commonplace in retail, commercial, industrial, and institutional environments, and are even finding a niche in residential spaces where sustainability is a priority.
Densifiers can be used on interior or exterior concrete surfaces, and on any concrete, new or old. Existing concrete should always be cleaned well and stripped of existing coatings, such as sealers or paint. New concrete, however, is where there is some variance in opinion, and among manufacturers, on just how soon densifiers should be applied.
While the "best time" to apply might be debatable, there's no question that the most beneficial densification occurs with well-cured concrete, likely in the 14-28-day range, where sufficient hydration has taken place, translating to more calcium hydroxide, leading to more chemical reaction.
However, depending on the mix design, application to brand new, freshly placed concrete still has several benefits in providing early protection of a new, pristine slab. Once fresh concrete has achieved final finish and set, densifiers can go to work to protect the slab, preventing staining and discoloration, along with damage resulting from the ongoing construction process.
Ultimately, be sure to read, understand, and follow the manufacturer's recommendations on the product label, as product chemistry and mix design, along with project, temperature and environmental parameters will vary.
RELATED:
How to Use a Concrete Densifier
One of the great benefits of most concrete densifier products is the ease of application. With most concrete densifiers, that starts with the fact that you have a permanent, single application process – hardens, helps cure, and seals in a single application.
As with most concrete chemicals and products, proper surface preparation is critical; ensuring your surface is clean, sound, free of all dirt, grease, foreign matter or previous coatings is critical in allowing the densifier to penetrate. Use a V.O.C. compliant, emulsifiable, non-etching solvent, cleaner and degreaser. Completely rinse away all residue and allow to dry completely for proper penetration of your densifier.
Spray applied, broom or squeegee applied, or using a swing or riding scrubber are all optimal methods based on your specific project needs, site conditions and environmental variables.
Most densifiers will call for keeping the surface saturated, applying product to refusal. Again, consult your manufacturer's recommended instructions with regards to application, coverage rates, and compliance.
The use of concrete densifiers is more than just the latest trend in concrete chemicals. A solution capable of increasing the compressive strength of concrete, while adding abrasion and stain resistance, eliminating efflorescence and dustproofing your surface. Not to mention its ability to seal, acting as a moisture barrier, and increasing the longevity of nearly any concrete surface, from freshly poured to decades-old concrete, and to do all of this in a labor-efficient, cost-effective manner.
No doubt, concrete densifiers have changed the way we look at finishing polished concrete. When it comes to concrete densifiers, when properly applied, the ability to greatly increase hardness and double your surface strength – right where you need it the most – simply cannot be overlooked, whether you have a large industrial warehouse, retail showroom, or a residential garage.
Ed. Note: Michael LeMark, CDT, CCPR is the executive vice president at SpecChem. He can be reached at [email protected]

This article was originally published on July 31, 2017.