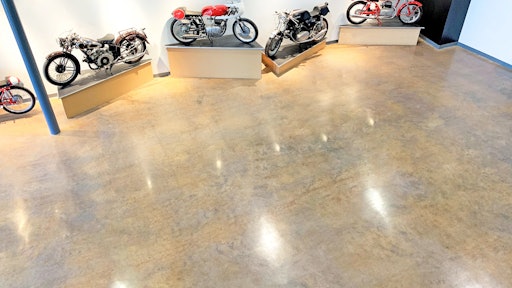 Niagara Machine Inc.
For a concrete refurbishing contractor, having grinders and related polishing equipment at work on a jobsite is essential. But when that equipment is down for repairs or needed at another location, what are the options? For PaintSmiths of Missouri, the answer was Sunbelt Flooring Solutions, a nationwide company that rents a full line of concrete grinding and polishing machines, tooling and HEPA dust collectors. PaintSmiths turned to Sunbelt for the equipment required to tackle a concrete polishing project at Moto Museum in St. Louis, MO. 
The Moto Museum is a 16,000-sq.-ft. facility that houses a collection of vintage motorcycles dating back to the turn of the 20th century, including some of the rarest bikes still in existence. The museum, which grew out of the private collection of owner and founder Steve Smith, has six galleries featuring unique motorcycles from around the world. Two of the museum's galleries are leased for special events such as conferences, retreats, weddings, birthdays and family reunions.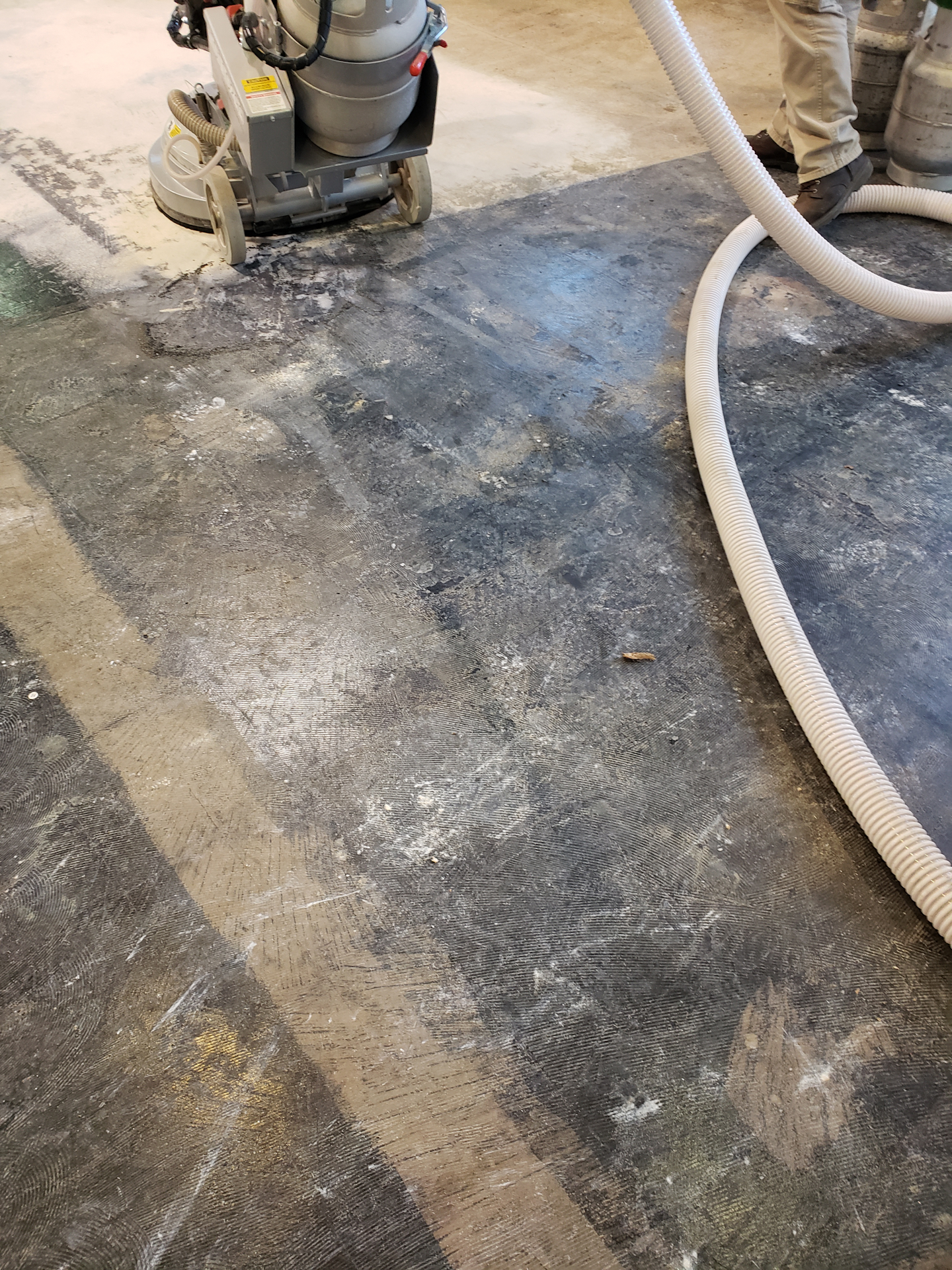 Once all floor coverings, adhesives and epoxies were removed, minor repairs were made, and the floor was ready for multi-step grinding.Niagara Machine Inc.
A recent renovation project at Moto Museum entailed a plan to repair and polish a worn concrete floor in an event gallery. The floor had a variety of coverings, including paint, epoxy, carpeting, luxury vinyl tile and vinyl composite tile, and was stained, scuffed and worn from decades of heavy traffic. 
"Our normal inventory of grinding and dust control equipment was wrapped up on other jobsites," explains PaintSmiths Project Manager Jeff Hasty. "So, I gave my Sunbelt Flooring Solutions rep Dallas Hill a call, and Sunbelt and Niagara became resources for the machines we needed on this job." 
Hill adds that "a contractor shouldn't have to postpone or turn down jobs due to equipment shortage or unavailability. Our goal at Sunbelt Flooring Solutions and Niagara is to be sure these guys have the best machines and materials available to get their jobs done. It's a win-win situation for them and for us. And for their customers, too."
The Moto Museum floor refurbishing project was a joint venture between PaintSmiths, Sunbelt, Niagara Machine Inc. and Sherwin–Williams H&C division, which supplied the concrete treatment chemicals used for the project. 
PaintSmiths' services include painting, coating, wall covering and floor staining, coating and polishing for commercial, industrial and high-end residential projects. Niagara Machine Inc., is a concrete flooring and surface preparation specialist and a national distributor of grinding machines, shot blasters, scrapers, dust extractors, air scrubbers, diamond tooling and chemical treatment products. Niagara supplies both Sunbelt Flooring Solutions and Sherwin-Williams with concrete resurfacing equipment and is a resource for comprehensive, hands-on training for concrete contractors, building maintenance managers, and others involved in concrete floor restoration and preservation. 
In the initial phase of the project, the 4,000-sq.-ft. event gallery was stripped of existing paint, tile, carpeting and adhesives. The luxury vinyl tile and composite vinyl tile were removed using a BlastPro scraper, and paint and epoxy were removed with a propane-fired Lavina 30-GTX forced belt-driven planetary grinder. This grinder features fast, cordless operation, clean exhaust, simple tool changes and balanced, easy-to-control handling. A DiamaPro SVX3A HEPA dust extractor and AS-2000 air scrubber handled the dust control.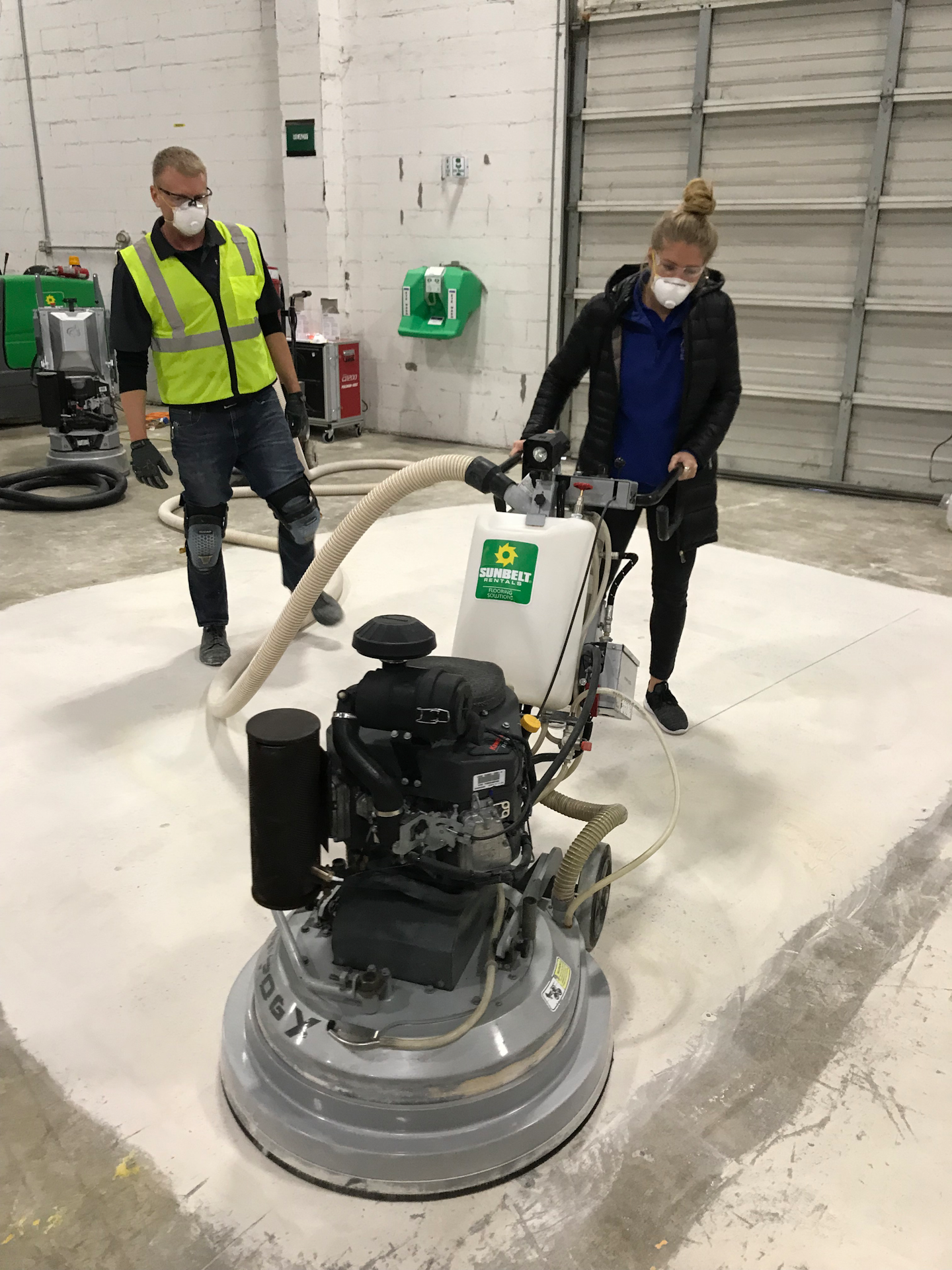 Paint and epoxy were removed with a propane-fired Lavina 30-GTX forced belt-driven planetary grinder.Niagara Machine Inc.
With all floor coverings, adhesives and epoxies removed, minor repairs were made, and the floor was ready for multi-step grinding. 
"We started the grinding and polishing process with 30-grit diamonds and worked our way up through 50, 100, 200 and 400-grit stages. Then we used an 800-grit tool for the final polishing," explains Hasty. 
The last phase of the Moto Museum project entailed staining and sealing the gallery floor. Sherwin-Williams H&C acetone dye stain was selected in ranch hand brown and tortoise shell hues to complement the gallery's décor. The dye stain was applied after the 400-grit polishing stage, along with a clear liquid hardener/densifier. After the final polishing with 800-grit, the surface had the desired matte finish. 
The PaintSmiths crew completed the Moto Museum repair and polishing project in one week, including the downtime required for other trades on-site to utilize the gallery floor. 
"This was a very efficient project," says Hasty. "We had the right equipment in the right hands, and the result is a beautiful concrete floor. I think it will make a great contribution to the overall Moto Museum experience."