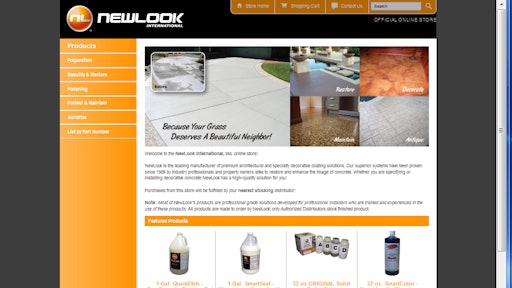 NewLook International, Inc. unveiled its new online store where purchases are actually fulfilled by Authorized NewLook Distributors. NewLook is utilizing a unique online platform from Shopatron, a retail-integrated eCommerce order management solution for branded manufacturers and retailers.
Customers can access NewLook's store at www.getnewlook.com and purchase most of NewLook's specialty or industrial line products. The order fulfillment process is like most other eCommerce solutions with the exception of an important difference: the orders are sent to and fulfilled by participating NewLook Distributors; if they have the inventory available then they can choose to fulfill the order, which must be done within 24 hours.
"For years, we've struggled to identify a viable eCommerce solution that does not create channel conflict. Our relationship with distributors is very important to us and we believe that Shopatron is our answer," says Jacob Webb, vice president of NewLook International, Inc. "We're excited because it's a win-win for all parties involved."
The store provides customers with a convenient ordering method. "We know of some contractors who feel their purchase orders are not submitted fast enough," notes Webb. "The online store gives them a way to control that in addition to other benefits." The store includes many product from NewLook's broad range.
Distributors benefit from utilizing Shopatron, as well; it gives them access to a new customer base they were not originally aware of. "The store provides distributors with orders that distributors would likely not have received otherwise. We want to reward our stocking distributors and hope all other distributors will feel more incentive to maintain adequate inventory volumes so they (and their customers) can benefit," explains Webb.
Until now, NewLook has not had a means to measure its online marketing efforts. "Now NewLook can confidently market its eCommerce solution without fear of creating channel conflict," says Webb.