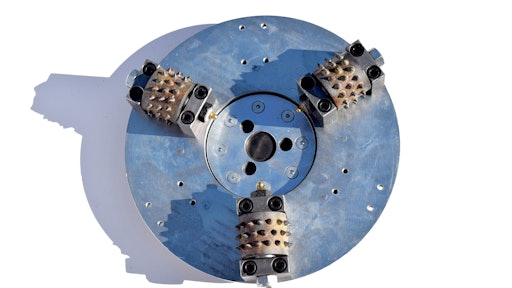 Concrete Polishing Solutions now offers Bush Hammers, the tool for removing heavy, thick coatings. The CPS Bush Hammer features three tungsten carbide rollers with conical points mounted on a plate to run under concrete floor grinders, ideal for breaking down difficult coatings while leaving a textured surface ideal for bonding future epoxy coatings or overlays. It also can be used to increase slip-resistance on both indoor and outdoor applications.
Offered on both an 11" plate and 9" inch plate, for maximum versatility.
The hammer's rollers are available in both small and large sizes, ideal for any size job.
Replacement rollers can be ordered for the Bush Hammer as well and the tools are perfect for running under CPS Grinders like the G-320D, the G-290, and the G-250XT.
The Bush Hammer is part of CPS' line of surface preparation tools, including aggressive PCDs ideal for removing glues and mastics without causing damage to the floor in the process.
Bush Hammer assemblies and replacement parts are available through CPS or its distributors.